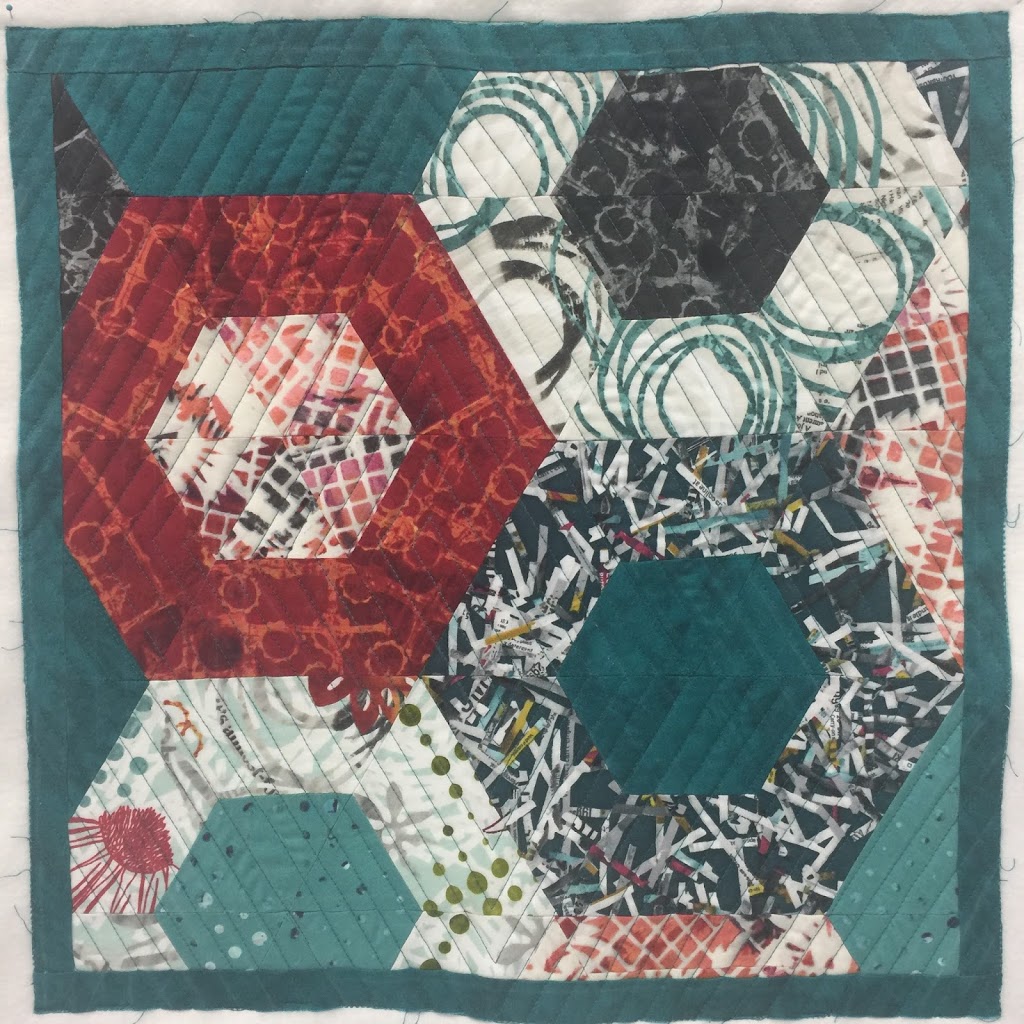 The guild I belong to recently held a mini quilt show/silent auction, where the members were challenged to make modern mini quilts measuring 16″ square to show and raise awareness for modern quilting and invite people to ask questions about what our guild does. The event was graciously hosted by Sew Special Quilts in San Antonio, where they provided space for us to show the quilts and have our meeting after hours. They were so awesome and have a great selection of quilting and sewing supplies, so if you're in need and in the area, please show them some love!
I already posted about the mini quilt I made two weeks ago (the double wedding ring mini quilt), but I wanted to share the other two quilts I worked on, in collaboration with Debra–a fellow member of the guild.
The first quilt I quilted was pieced by Debra from yet another guild member's inaugural fabric line (Leslie Tucker Jenison-Urban Artifacts by RJR Fabrics). It's a great design and awesome way to showcase a variety of great fabrics. For this quilt, I just quilted some simple contrasting straight lines. I think the fabrics and design of the mini are more prone to show better when the quilting design is simple.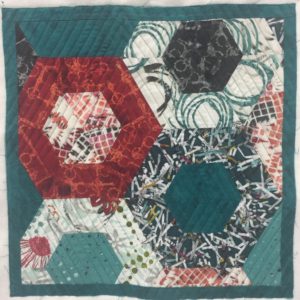 Pieced by Debra B, fabric-Urban Artifacts by Leslie Tucker Jenison
pardon the not-square appearing mini. It really was square, but I forgot to smooth that wrinkle before I snapped this picture. This was right after quilting and mini was not yet bound.
The second quilt I quilted was also in collaboration with Debra. Debra hand cut each charm square from a Grunge charm pack and fused the fabrics to the background. I thought this was a super cool quilt pattern to use and has the illusion that all the circles are connected. For this one I wanted to do something to make the circles stand out from the background, so I quilted a smaller grid on the fused circles and then did some straight line quilting on the background fabric.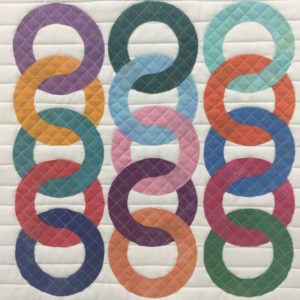 Mini Quilt "pieced" by Debra B. using Grunge fabrics
We had a really great night and the event was so much fun. It isn't often that everyone in our guild participates in "Sew and Tell", and we had a lot of members participate in this. Seeing the range of everyone's quilting interests and what their personal specialty is was a treat.