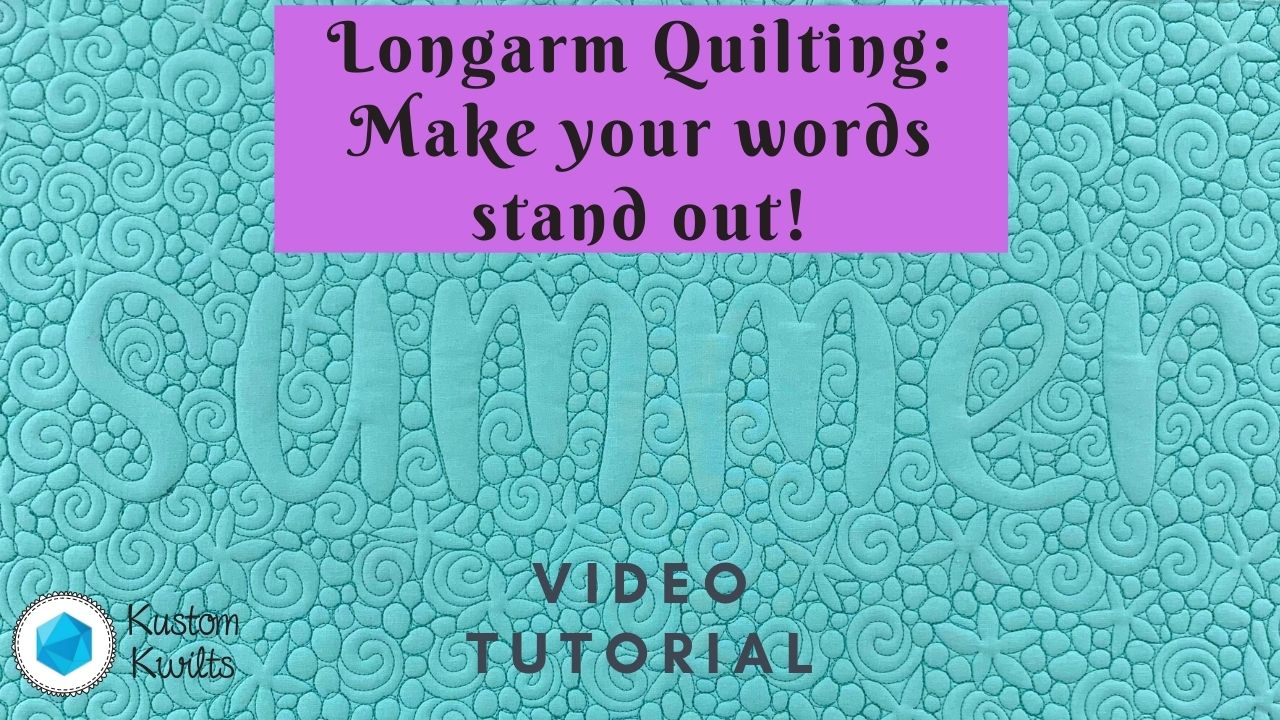 Okay, so you just got an invite to a party–maybe it's a housewarming/baby shower/wedding shower/etc. You fill in the blank. This person is super special to you and you just want to give a gift that is really cool and not a lame bottle of wine they probably won't even like (I'm not a wine drinker ;). Aaaaaaand, you want to show off your fancy schmancy free motion quilting skills, amiright? Let's learn how to quilt words with free motion to make your text POP.
I absolutely LOVE taking a baby name and using this technique to jazz it up a little and make a sweet wall hanging for when the parents bring their new babe home. I made a similar one for my daughter before she was born, but I incorporated a little embroidery into hers as well. The great thing about this gift is:
It's quick and easy
Even solid fabric will look good (and fancy)
It's PERSONAL. Capitalized.
You can use a name, phrase, initial, literally WHATEVER you want
You probably already have the things on hand you need for this and don't have to run to the fabric store.
Materials-What do you need?
This is a super simple project. Unless you want to piece some fabric and get a little more intricate, all you need is some solid fabric. And, to be honest, this technique looks best with solids. Patterned fabrics will sometimes take away from the relief quilting, unless it's a really subtle pattern. I have a lot of LOUD, busy prints. So solids for the win for me!
Solid fabric for the top or front of the wall hanging–I always make this piece a little bigger than I want my finished piece to end up so I can cut it down to size.
Solid fabric (or a print) for the back of the wall hanging. This piece needs to measure 12″ bigger on width and height. If your top fabric is 12″ x 24″, this piece needs to measure 24″ x 36″.
Quilting thread that is at least slightly contrasting to your top fabric.
Stencil made from your favorite font (you can also freehand whatever word you want)
Erasable fabric marker (I like Frixion pens for this)
Longarm needle
Longarm or domestic sewing machine (whatever you have and are comfortable using for free motion quilting)
2 pieces of batting the same size as your backing fabric
Binding fabric for the finish.
Watch the tutorial on How to Quilt Words
Give it a go!
Now that you're an expert, give it a try! When I was a beginner quilter, I would buy some really cheap flat twin sheets and practice this kind of stuff on that. I built up my confidence a little on the cheap sheets and then wasn't so afraid to try it with good quality quilting cotton.
Think of what a hit your gift will be at the next wedding shower when you give the happy couple a wall hanging with their new last name (if they are using the same last name :), or for whatever occasion, this can be personalized in so many ways. Be creative and have fun! And don't forget to spice up your free motion with themed shapes. For the "Summer" wall hanging, I threw in a few whimsical starfish here and there. Have fun and give it a shot!
Happy sewing! -Joanna