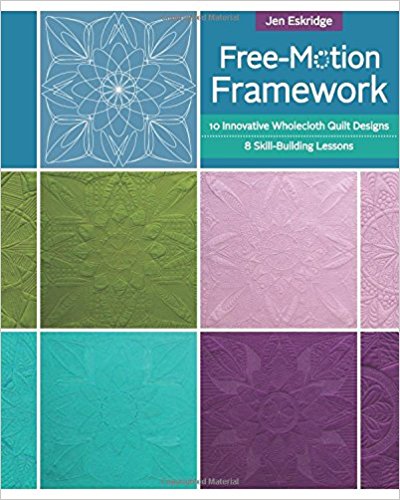 I am delighted to announce that I had the honor of contributing to Jen Eskridge's new book from CT Publishing called Free-Motion Framework.  It's an amazing book that offers tips and tricks for really building your free motion quilting skills.  There are so many amazing contributors (17, in fact!) in Jen's book, you've really gotta check it out!  Keep on reading to the bottom for two separate chances to win!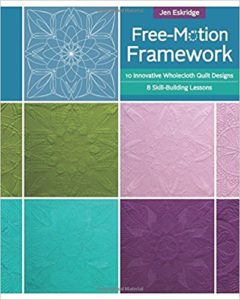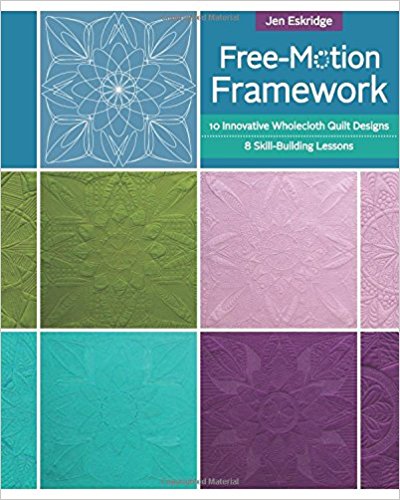 Head over HERE to leave a comment to be entered in the giveaway!  Jen will be announcing the winner on June 19th (entry closes June 18).  Prizes include: Clover marking tools, Clover Wonderclips, HandiQuilter machine quilting rulers, and a couple of copies of the book!  AND…For a second chance to win, I'm giving away a copy as well, courtesy of C&T Publishing!  Head over to Instagram @kustomkwilts and enter for your chance to win a copy of the book by:
Following my instagram account @kustomkwilts
Liking the giveaway post
Tag a friend!
You must do all three to be entered to win!  My giveaway will close Sunday, July 10 and I'll announce the winner Monday July 11, 2018.  The giveaway hosted by me is closed.  Congratulations to Marnie Anderson on winning a copy of the book!
Free-Motion Framework launched at Spring Quilt Market this past May, and is available on Amazon now.  Check it out here!  The book includes ten designs that can be transferred to a whole cloth or a single piece of fabric as your quilting guide.  I quilted two of the samples included in the book, and really loved how simple the process was for transferring the design to the fabric and then starting to plan your quilting ideas.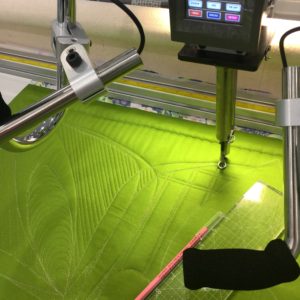 Jen gives lovely suggestions for how to create your own designs and fill the area creatively.  This book is a wonderful exercise in working out your quilting muscles and trying something new.  The skills to be gained from this are limitless, but I found that it really helped me plan block based quilting designs much more efficiently and gave me some new ideas I hadn't tried before.  I really like the idea of using hand guided free motion quilting in conjunction with some simple ruler work and straight lines.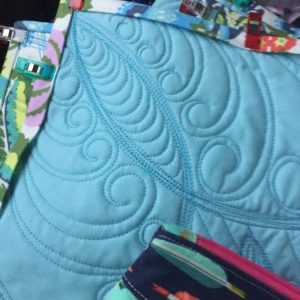 The picture above is the corner of another of my samples in the book.  The designs provided in the book are so simple to use and provide a great study on symmetry in your whole cloth work.  I can't wait to get my hands on a copy so I can quilt up some more of these quilts.  Don't forget to follow the link in the second paragraph to comment for a chance to win some great prizes in this blog tour of Free-Motion Framework!
Stop by each blog this week for a possible chance to win a copy of Free-Motion Framework. (International winners, outside the USA, will receive a digital copy.)
Monday | June 4
ReannaLily Designs (here!) 
C & T Publishing
Tuesday | June 5
Joey's Quilting Co
Helen Ernst Longarm Quilting
Nancy Zieman Productions, LLC The Blog
Thursday | June 7
Friday | June 8
Kustom Kwilts
Living Water Quilter
Seamingly Slawson Quilts – Susan Lawson