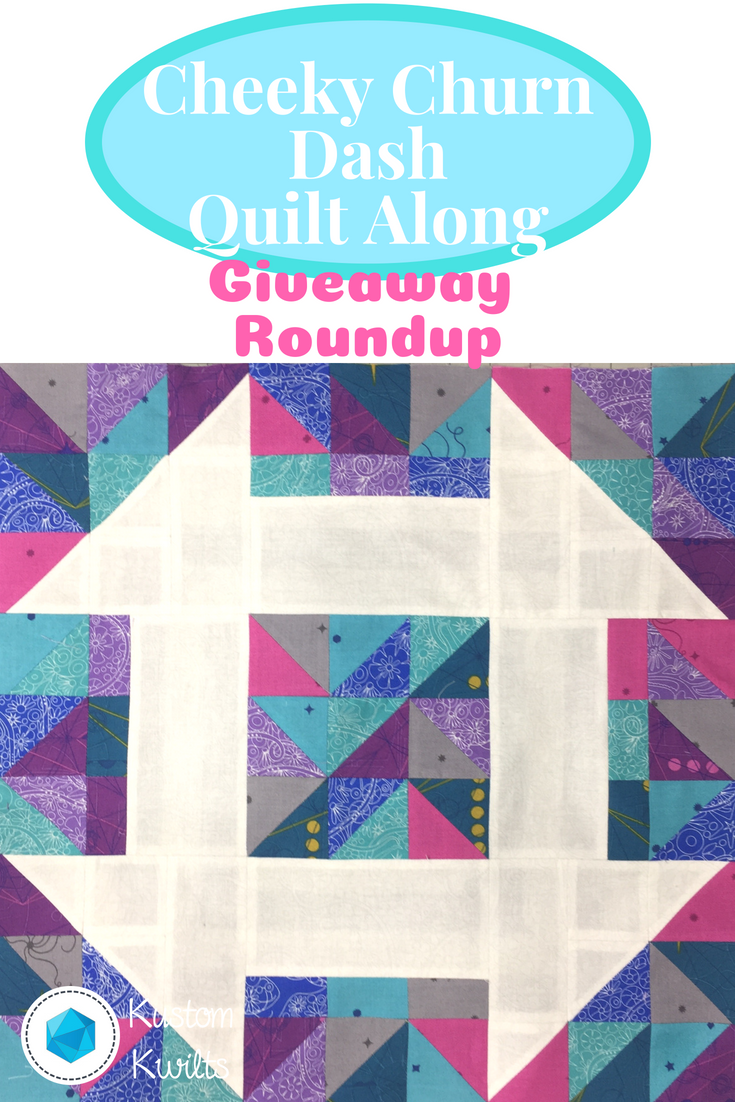 Who doesn't love a good giveaway?  Here are some exciting updates for the Cheeky Churn Dash Quilt Along–we're getting ready to kick off in a little over two weeks–so I hope you're getting ready!!!  There are some super special people and companies who have joined in the fun and are giving away some great prizes for the CCD QAL–A huge thank  you to all of the sponsors!
Cheeky Churn Dash paper patterns are now in the shop, so if you haven't purchased your pattern yet, you can grab a PDF download or get your paper copy HERE.
The featured fabric shop for the quilt along is Knotted Threads!  Head over to Jennifer's Etsy shop and use the discount code CHEEKYCHURNDASH for 10% off your purchase.

As the Official Cheeky Churn Dash QAL post indicated, there are going to be some AMAZING prizes for participants of this QAL.  Many of the prizes are sponsored/donated by myself, but I'll give you a little peek at some of the other prizes, and who the sponsors are!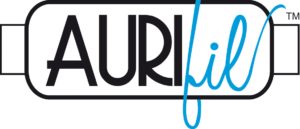 Aurifil is sponsoring a small spool collection of thread 🙂

Olfa is giving away a Splash Rotary Cutter and Endurance Blade!

Quilter's Dream Batting is giving away one double size batting (perfect for the Cheeky Churn Dash!) of the selected winner's preference!

The Quilter's Planner is giving away one 2019 Quilter's Planner!!!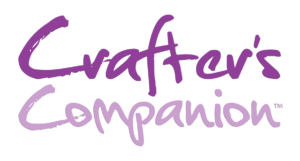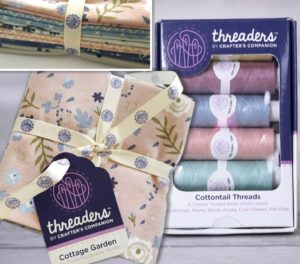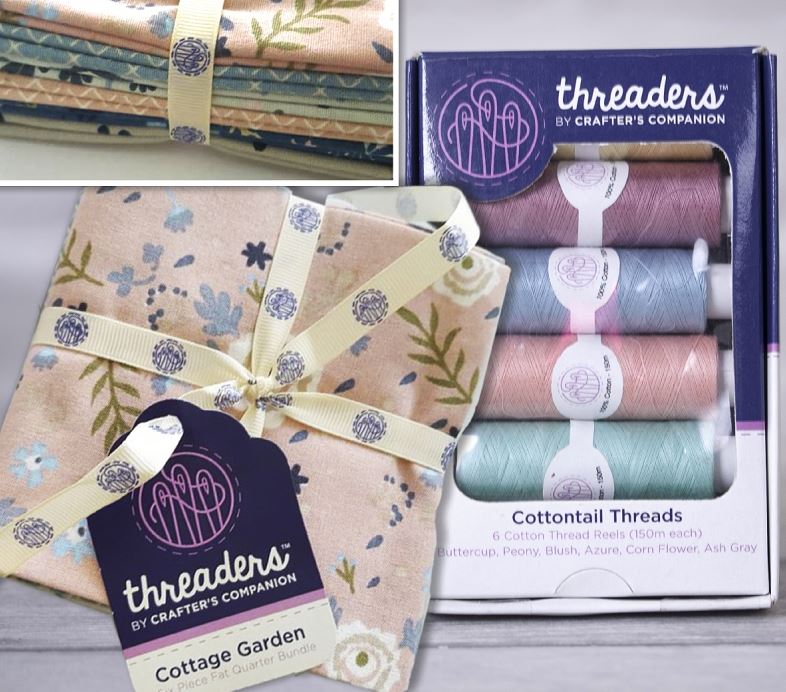 Crafter's Companion is giving away a FQ bundle and thread set 🙂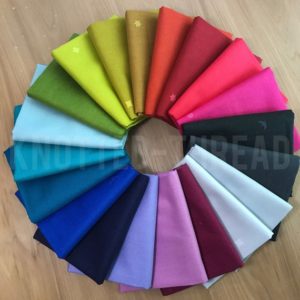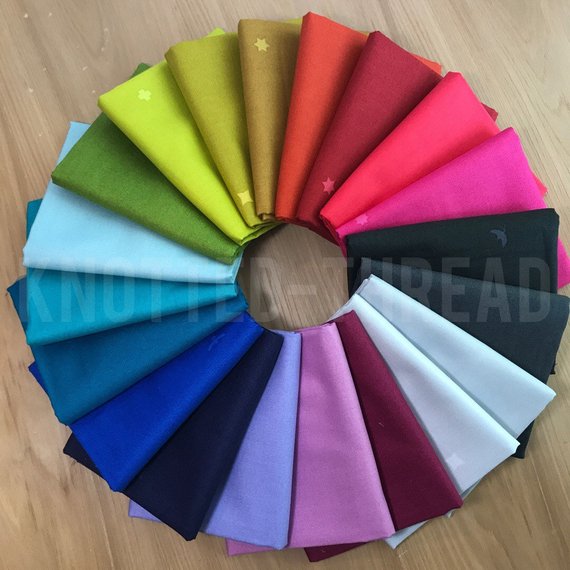 Jennifer from Knotted Threads is giving away one FQ bundle of Alison Glass Insignia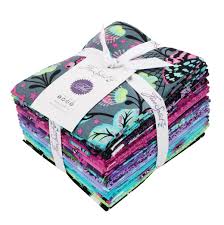 I'm giving away one FQ bundle of Tula Pink's De La Luna that I purchased from Knotted Threads!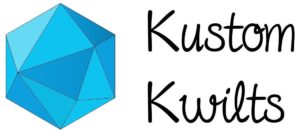 The grand prize for the conclusion of the QAL (see the giveaway rules posted below) is for FREE edge to edge longarm quilting by Kustom Kwilts (that's me!).  If you'd prefer custom quilting, you just pay the difference.  Winner is responsible for shipping costs.  And I'm providing several other goodies along the way, so there are lots of chances to win!
Rules
There aren't many rules for this quilt along, unless you want to be considered for giveaway prizes.
There will also be some awesome giveaways sprinkled throughout the quilt along, so be sure you post one picture to your Instagram account of that week's progress before the next week's starting date in order to qualify for prizes (see the schedule below for specific dates).  Each weekly giveaway is dependent only on that week's task.  SO if you missed week one, but you post a picture to Instagram that completes the week two task by the end of week two, then you're in the running for the week two giveaway.  Got it?
There will be one grand prize winner at the end of the quilt along for one lucky person who completed and posted their quilt top (must be the 81″ x 81″ version) by November 16, 2018.  You're still in the running for the grand prize, even if you missed posting throughout the quilt along, so long as you post your finished quilt top to your Instagram account by November 16.
The giveaway prizes are only for US participants and cannot be shipped outside the US.  Sorry!
Schedule September 15-November 16, 2018 (IG posting schedule)
September 15-21 Week One:
RSVP for the quilt along, gather your pattern, fabrics, and materials and introduce yourself using the hashtag #cheekychurndashquiltalong.  I'll be randomly picking one winner from week one (you have to post on instagram with the hashtag) to win an awesome prize!
September 22-28 Week Two:
Starch fabrics if needed (you won't need to do this if you plan on using Beth Helfter's Accordian Sewn HST™ Method.  Cut all fabric according to the option you are making.
September 29-October 5 Week Three:  
Draw one diagonal line on the backs of the squares we'll be using to make half-square triangles if using the Accordian Sewn HST™ Method.  Assemble the half-square triangles and press.
October 6-12 Week Four:  
Square up the half-square triangles to 9.5″ square for the quilt size and 2.5″ square for the mini and pillow sizes.
October 13-19 Week Five:
Assemble sections 1, 3, 7, and 9.
October 20-26 Week Six:
Catch up week if you're behind!
October 27-November 2 Week Seven: 
Assemble sections 2, 4, 6, and 8
November 3-9 Week Eight:
Assemble section 5
November 10-16 Week Nine:
Sew the quilt top together!