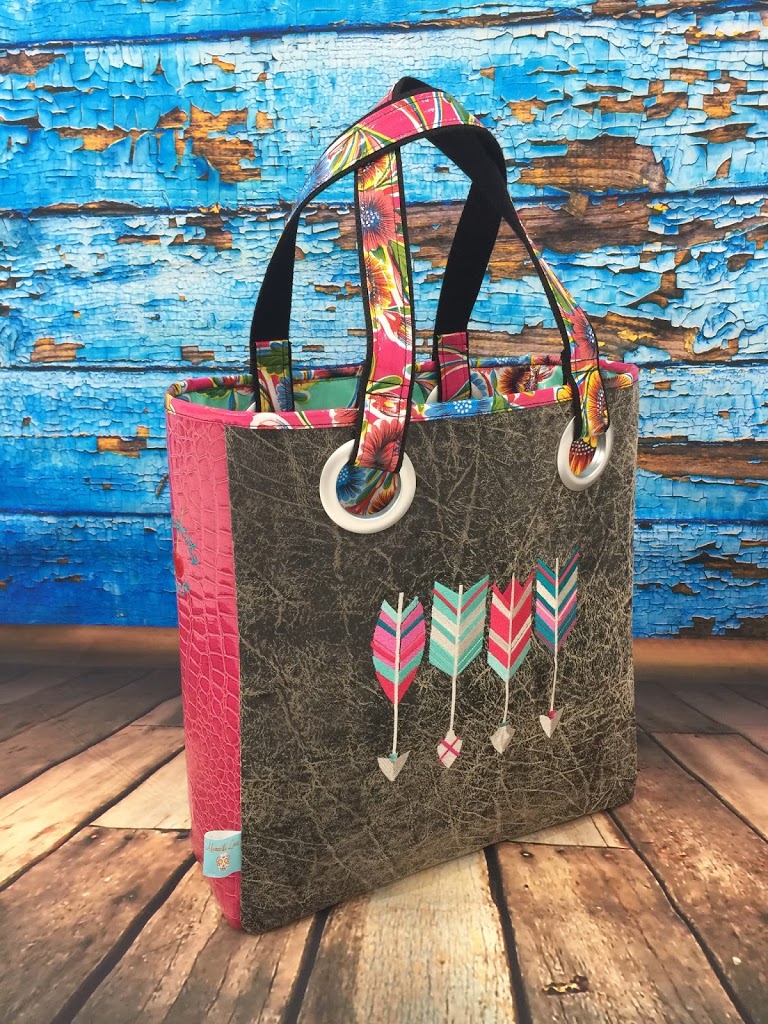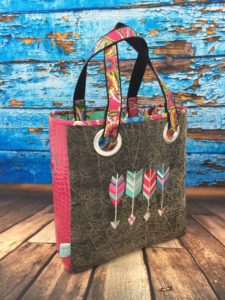 Good morning! Sometimes I think that when people look at my blog or my Etsy shop that they may not see a cohesive product…and I worry about that a little sometimes. However, I just enjoy doing all the things that I do too much to get rid of any of them. I know I could maximize my time and efforts if I chose one endeavor and focused only on that, like quilting or bag making or pattern writing. But I love them all dearly. And there's something to that saying, "Variety is the spice of life", am I right? In my previous career, I was an agriculture science teacher. Let me tell you…that is a job where you never have to worry about having the same day twice! That's what made it fun and exciting, and that's why I love being able to create a multitude of things. The teacher in my wants to share patterns and tutorials to give a love of sewing to others, and the bright color lover in me (I was obsessed with Lisa Frank, growing up in the 90s!!!) loves to translate that love into bags and quilts. I know that my "creative process" (I really don't take myself too seriously, so don't roll your eyes at that) would suffer if I didn't have all of these things to throw myself into.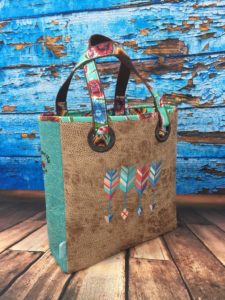 I love making things that last. I want the things I create to have some sort of impact. I want to bring happy colors and joy to people, even if it is in some small way. So today, I'm going to share one part of my creative business with you that I don't focus on too much on the blog. I started making my Mamacita Loca bags just a few years ago (I still have the very first one I made and don't ever plan to get rid of it…kind of like when businesses frame their first dollar they make!). I loved the idea of the embroidered handbags I was seeing at rodeos and stock shows at different vendor booths. The aesthetic was loud (which I loved), but I wasn't crazy about the selection of embroidery designs available on the bags. I started thinking of how much I would LOVE to see some Calaveras embroidered on the bags and more Dia De Los Muertos themed items. My love for Halloween runs deep, and I always was obsessed with Day of the Dead when I learned about it in high school. So I started making some simple bags and adding embroidery to them. I even offer custom embroidered monograms for the bags. They look really great (and I feel like you don't have to worry as much about your purse getting stolen!).
Like any endeavor that is started from the ground up, there were lots of things that needed to be improved on. For one, I had zero background in bag making, aside from some free patterns I had gotten online for some VERY simple quilted bags. I didn't really know anything about stabilizers or interfacing. Luckily, I knew I needed to refine all these things before I offered these bags to my customers. I am pretty proud of how far they've come, and that I still make these bags 100% myself. No one else touches them, start to finish. I feel like I'm able to offer a really great, handmade product that can offer a sense of personalized style.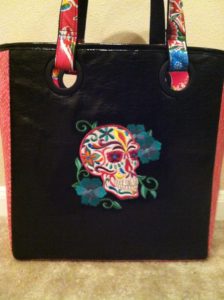 One of my first Mamacita Loca handbags
This bag was one of my earliest bags (as you can tell from the lighting and poor photography!). I get most of my skull embroidery designs from Urban Threads Embroidery, and I absolutely love their site. I was a little disillusioned when I first started embroidering before I found them, and was disappointed in how "traditional" most of the embroidery websites were. I wanted something that felt young and fresh, and they were the answer!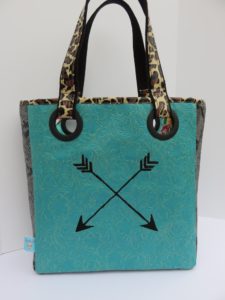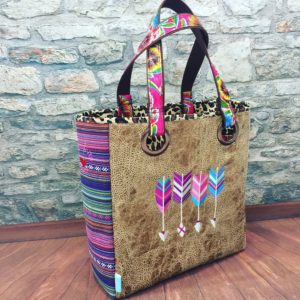 I've moved away a little from the blatant DDLM themes and have started moving towards the boho scene with colorful arrows and a little southwestern influence. I have always loved Mexican style saddle blankets and started using the serape-fabric with the faux leather for a really bold look.
Anyway, I don't plan on editing out bag making anytime soon, and I just wanted to share this part of my creative process with you. I really love the entire process, from selecting the fabrics and then choosing an embroidery design, selecting threads to coordinate with the design and the fabrics, and then putting the whole bag together. These are available in my Etsy shop under the Mamacita Loca listings, so go have a look HERE!