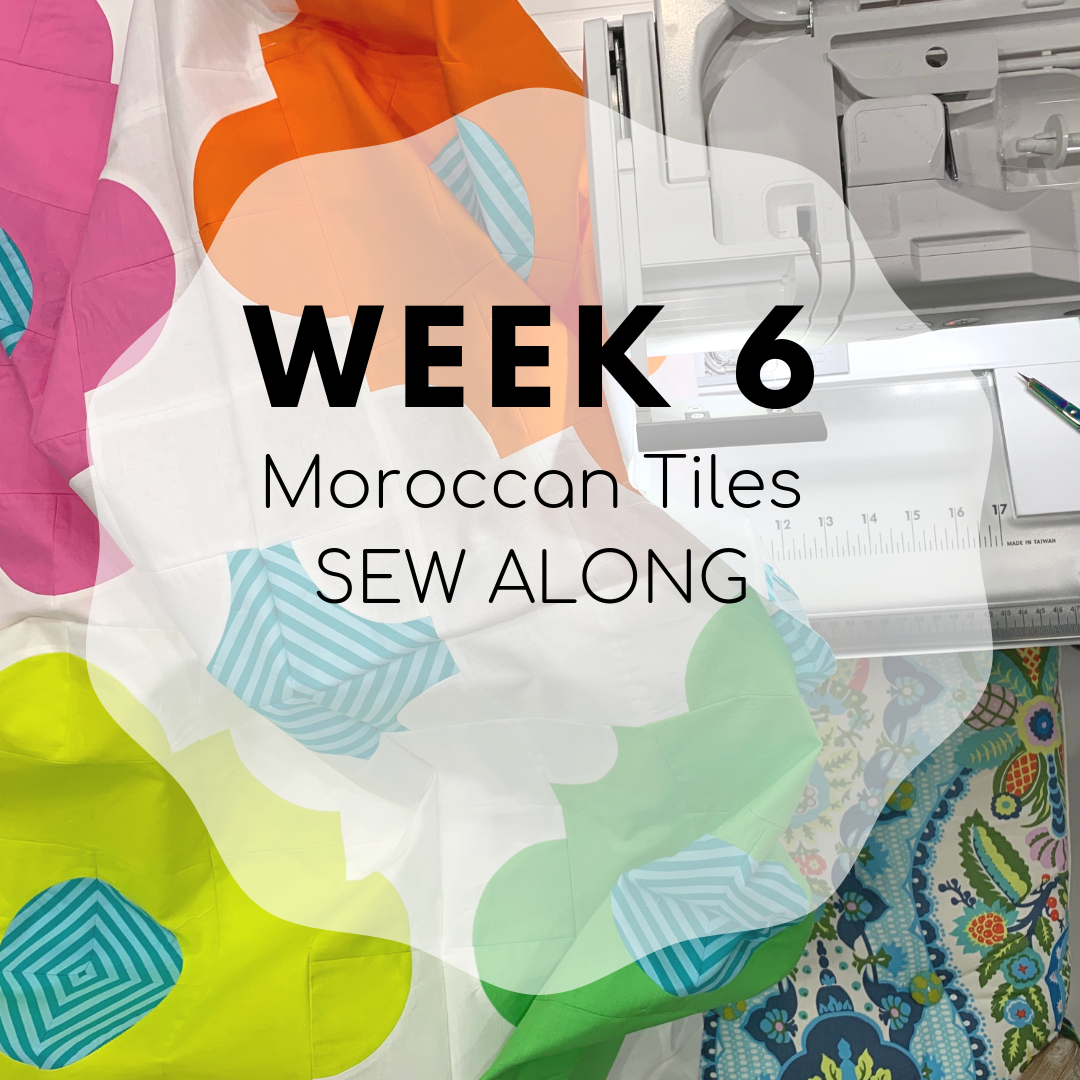 Week 6 is here, and we're finally in the home stretch!! Many of you have already completed the baby size and pieced your tops, and you're ahead of the game. Last week, I popped in a catch up week due to the holiday weekend, and I hope you got to enjoy some time with your family (or squeezed in some extra sewing time 😉
What to do for Week 6:
Sew together your Moroccan Tiles quilt top.

Layouts are pictured on Page 3 of your pattern.

Next, follow step #17 on page 12 of your Moroccan Tiles pattern to assemble the top.
Don't forget to match those stripes or fussy cuts if you went that route. I like to pin to match the patterns, or you can try glue basting for a great no-shift match!
This week, post a picture of your completed quilt top on Instagram using the #moroccantilessewalong hashtag.
I'll be randomly picking TWO winners from week 6 (you have to post the week 6 prompt on Instagram with the hashtag by 7/19/2019 at 11:59 CST) to win an awesome prize! Week 6 is sponsored by Sew Fine Thread Gloss and Quilter's Dream Batting. Check out the Original Sew Along post for more details & the rules.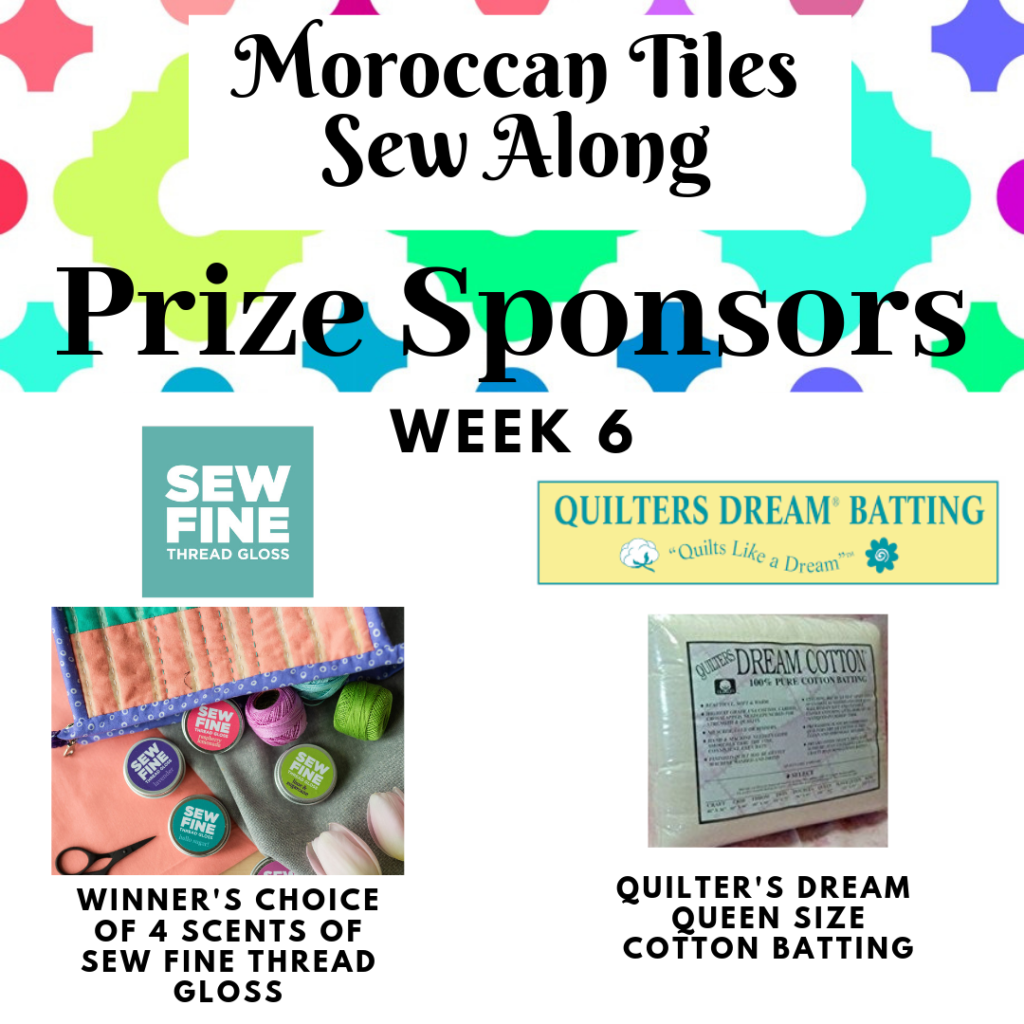 Don't forget to finish your quilts 🙂
I know Sew Alongs are kind of a bummer, because once the top is done, that's it. We all know that doesn't give us a finished quilt! I'm hopeful that with our gracious sponsors for this week, it will give an encouraging boost to get those tops quilted and bound.
There are also backing preparation diagrams included with the pattern for each size. They can be found on pages 12-14 of your pattern, and allow for approximately 4″ extra on each side for the quilt size it matches. Keep in mind that if you send your quilts out for quilting, your longarmer may prefer 6″ extra on each side of the backing (or even another specific measurement).
Final thoughts
You all have done just a fabulous jobs with your quilts, and especially with sewing curves! I'm honored that you participated in this sew along, and I'm so glad I got to "virtually" meet you all and sew with you. I hope that it's been a great experience for you, and if it wasn't–please feel free to let me know what I can do better next time! I hope you'll continue to tag me @kustomkwilts with your quilting and binding progress! Thank you so much for sewing with me.
And a HUGE thank you to all of the sew along sponsors–feel free to show them some love for providing some amazing prizes for the sew along!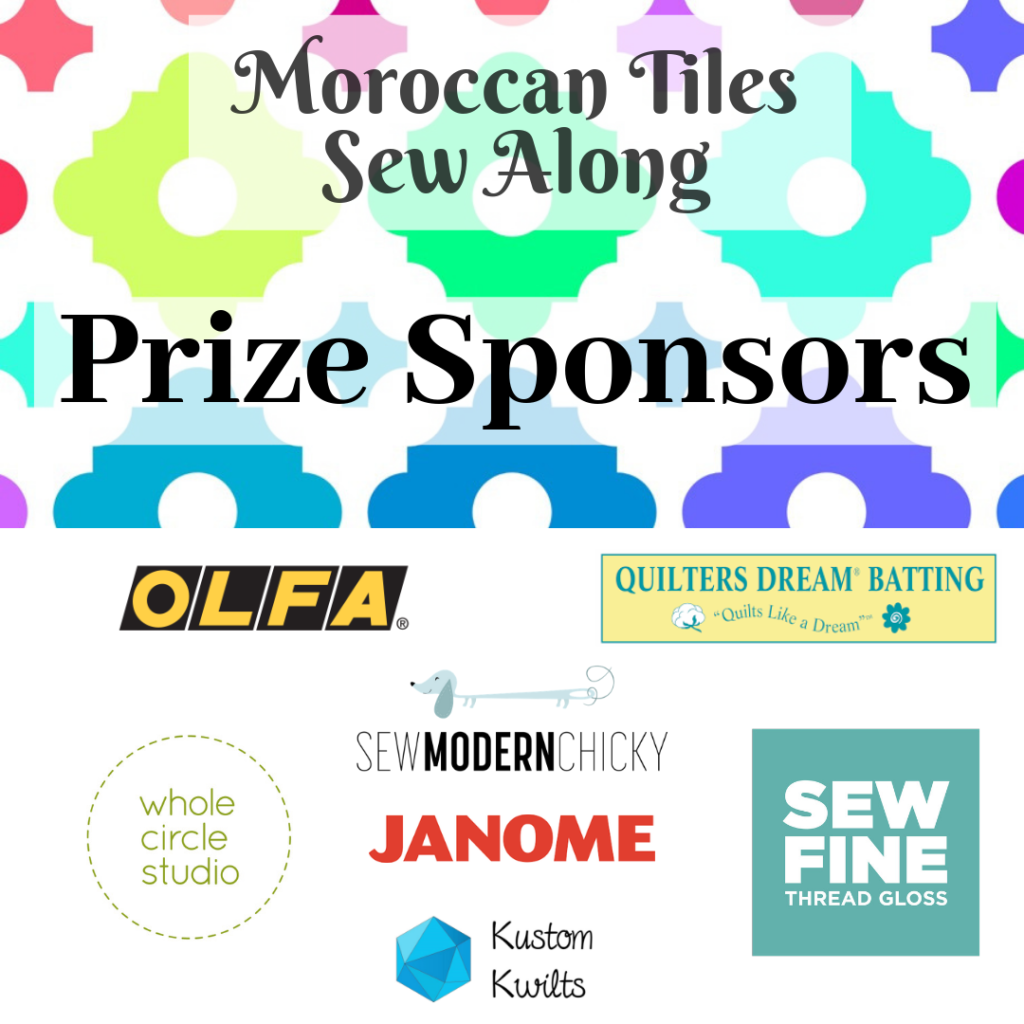 Refresher from last week:
If you need a little reminder and some extra tips and tricks with video tutorials, check out the week 5 post.
Moroccan Tiles Sew Along Posts:
Week One – Fabric Pull
Week Two – Cutting the fabric
Week Three – Assemble blocks 1-3
Week Four – Assemble blocks 4-6
Week Five – Assemble blocks 7-9 (and a catch up week)