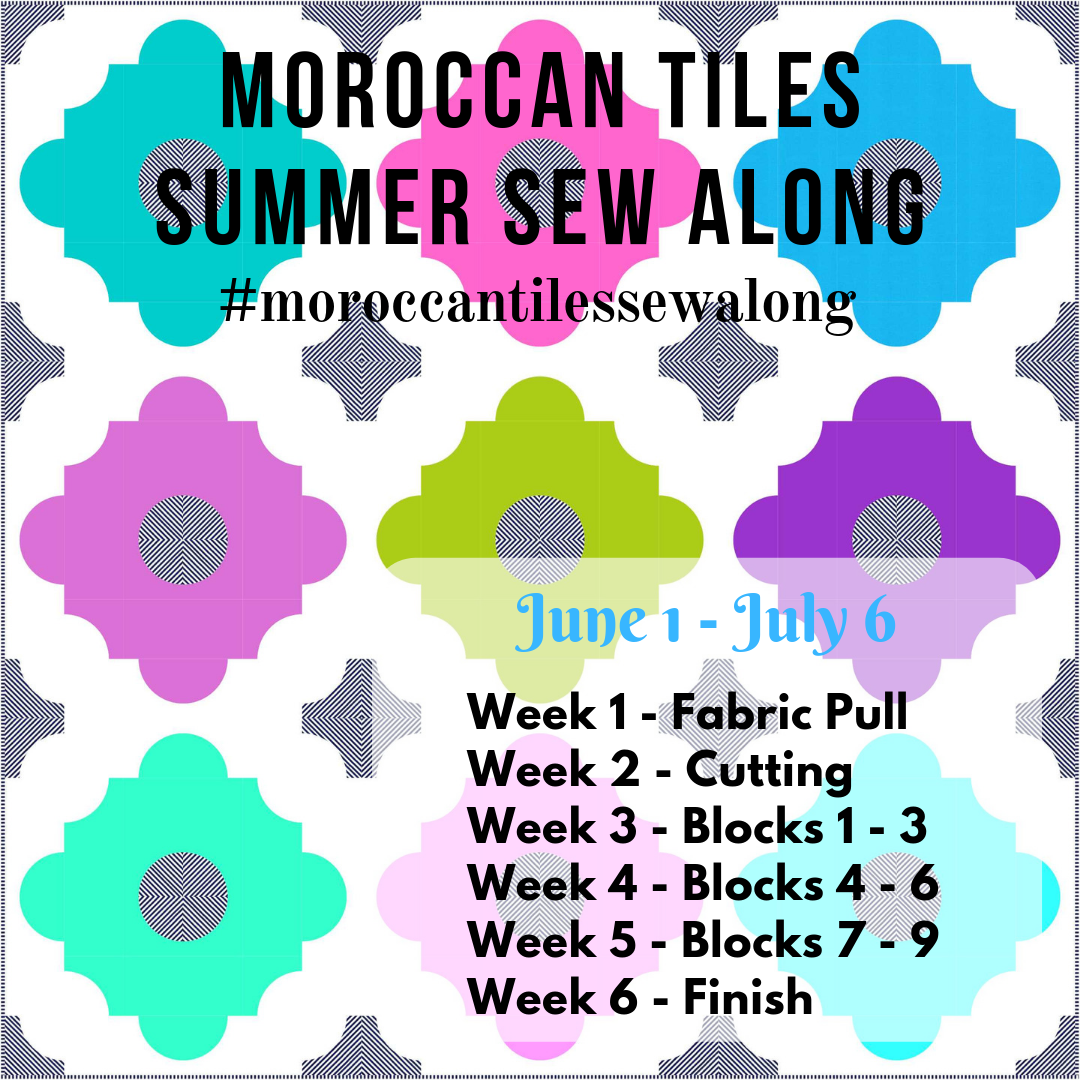 Are you gearing up for some fun summer sewing? If you're like me, I like to plan my projects a few weeks in advance so I have time to pick the perfect fabrics. Then there's no mad dash to gather fabrics and decide on the layout. If you follow along on Instagram, I've been posting a lot about the Moroccan Tiles Quilt pattern. Pairing solid fabrics and stripes with this one is so much fun! We really need a new quilt for our bed, so I had planned out the king sized version to make this summer. I thought since I'd already be making one, why not do a fun Moroccan Tiles Summer Sew Along and make one with friends!?
Join in the fun, and if you're interested, you can RSVP for the sew along here. Emails will go out at the start of each week to remind you of what's going on that week in the sew along and what the prize is for completing that week's task. There is a great post about the Moroccan Tiles Quilt that gives video links for tips and tricks, and has some various colorways for inspiration. You can check that out here!
Moroccan Tiles Summer Sew Along Schedule
DATES:
June 1, 2019 – July 12, 2019
Why join a sew along?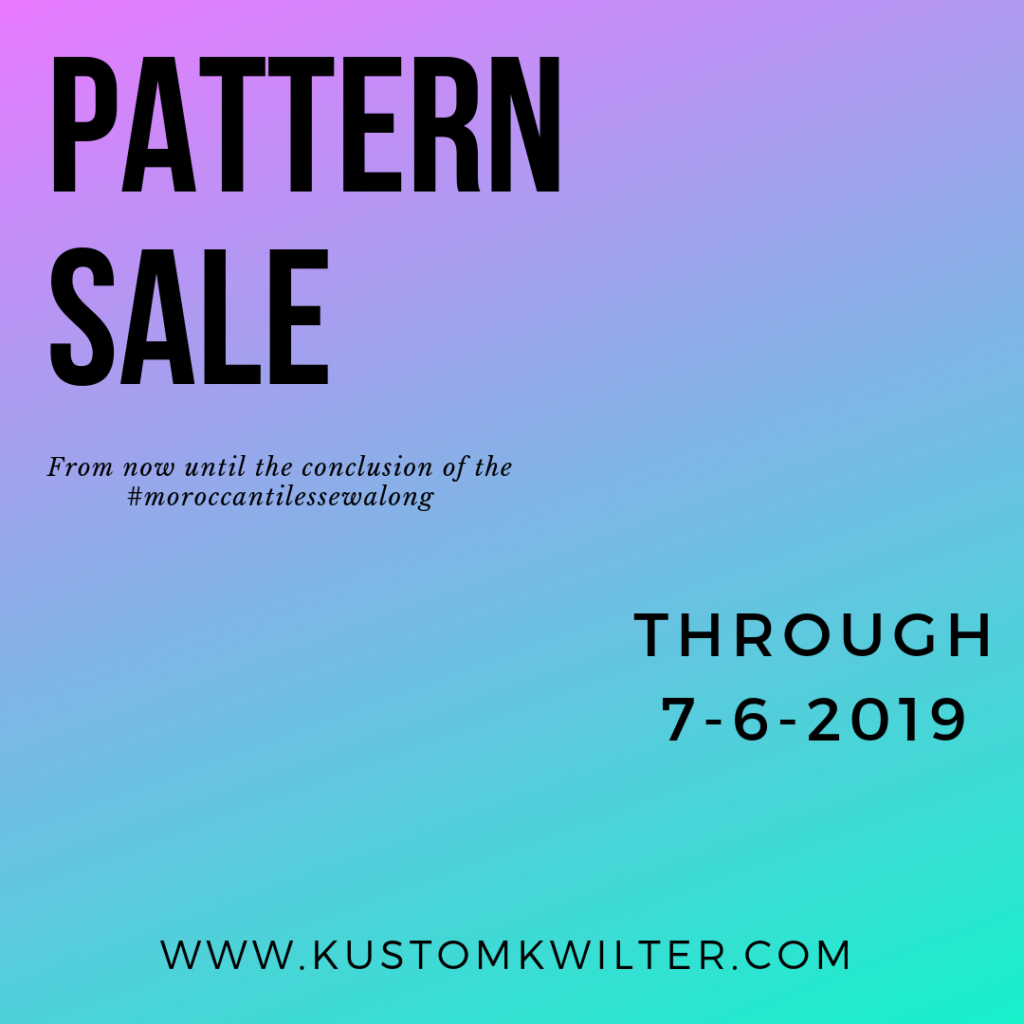 When starting a project, motivation to finish is really helpful. Sewing with a group of quilters and sharing our progress together will give you inspiration and answer any questions you might have while making your quilt. I like to know when I make a pattern that I'm going to have some help, and sew alongs are a great way to get that support! This sew along will take place on Instagram using the hashtag #moroccantilessewalong. Use this hashtag when you post your weekly progress so others can see your awesome progress (and you'll be able to see what everyone else is doing)! And also…there's usually a sale!!! Now's a great time to stock up on patterns and templates 🙂
The Moroccan Tiles Quilt
If you need a little inspiration, check out some of my favorite colorways below!
Not sure you have the skills to make this quilt?
If you are able to sew a consistent 1/4″ seam allowance and cut your fabrics fairly accurately, you'll be fine! And if you aren't comfortable with those things, you'll never learn if you don't try. This pattern might introduce a new skill to you if you're a beginner–and that's sewing curves! There are lots of videos ready to help you every step of the way, so you don't need to sweat it. Sewing curves is super addicting, and once you get started, you might not be able to stop! Sew alongs provide great community for asking questions and discovering new tips and tricks you might not have known before.
What will you learn?
You'll get to practice your 1/4″ seam allowance AND you'll learn how to sew curves and fussy cut (if you want to fussy cut–that isn't a requirement but an added bonus). You'll also get tons of inspiration from other participants in the sew along.
What will you need?
Partnering shop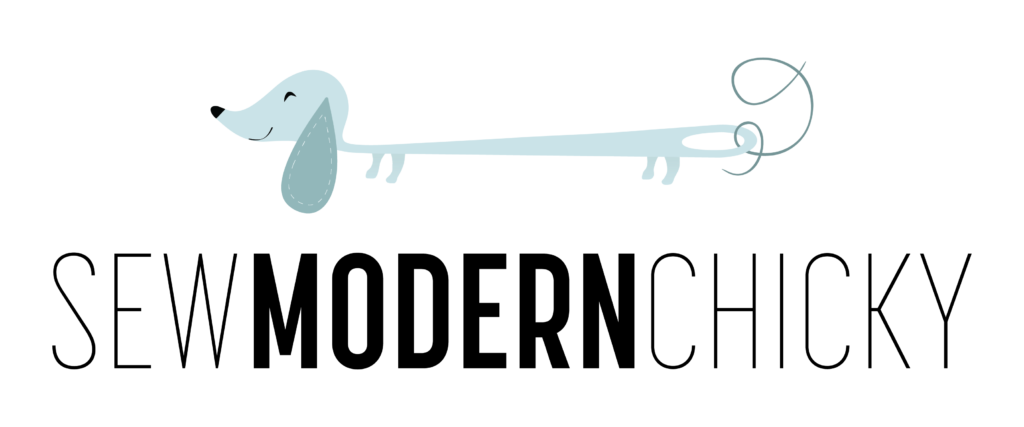 Paula at Sew Modern Chicky has partnered with the Sew Along fun to bring all Moroccan Tiles SAL participants a 15% discount on fabrics purchased from her shop! She has a great selection of current and modern fabrics, so you'll want to take advantage of this. Be sure to RSVP to the sew along HERE –the discount to Sew Modern Chicky will only be available in the Sew Along emails.
Sew Modern Chicky is an online and mobile shop that carries a great selection of modern quilting cottons, patterns, and gifts–and orders over $50 ship for FREE!! Sew Modern Chicky is available for retreats, shows, sew-ins, and meetings.
Schedule June 1-July 6, 2019
June 1- 7 Week One:
RSVP for the sew along, gather your pattern, templates, fabrics, and materials and introduce yourself using the hashtag #moroccantilessewalong. I'll be randomly picking one winner from week one (you have to post on instagram with the hashtag) to win an awesome prize!
June 8-14 Week Two:
Cut all fabric according to the size you are making. A tutorial on fussy cutting will be provided for this week if you want to use a focal fabric or incorporate stripes into your Moroccan Tiles Quilt.
June 15-21 Week Three:
Assemble blocks 1-3. I'll have a fun video tutorial for you on how to piece curves with the option to pin or not pin.
June 22-28 Week Four:
Assemble blocks 4-6.
June 29-July 5 Week Five:
Assemble blocks 7-9.
July 6-12 Week Six:
Finish your quilt top!
Location
This Sew Along will take place primarily on Instagram, so be sure to follow along on Instagram and use the hashtag #moroccantilessewalong when you post your progress pictures to participate! Instagram now lets you follow hashtags, so you can get inspiration and encouragement from everyone participating. Don't worry if you don't have Instagram. There will also be weekly emails with photos and tips, and be sure to sign up for the quilt along e-mail updates! (Just a note–there's a double opt in for the updates, so be sure to check your spam folder, and add me to your address book to make sure you get the updates). Join the Sew along updates if you haven't!
Rules
There aren't many rules for this sew along, unless you want to be considered for giveaway prizes.
There will also be some awesome giveaways sprinkled throughout the sew along, so be sure you post one picture to your Instagram account (must be a public account, not private) of that week's progress before the next week's starting date in order to qualify for prizes (see the schedule above for specific dates). So you would need to post before midnight of the end date-example for the first week: post your photo with the hashtag #moroccantilessewalong by 11:59 PM CST on June 7, 2019.
The giveaway prizes are only for US participants and cannot be shipped outside the US. Sorry!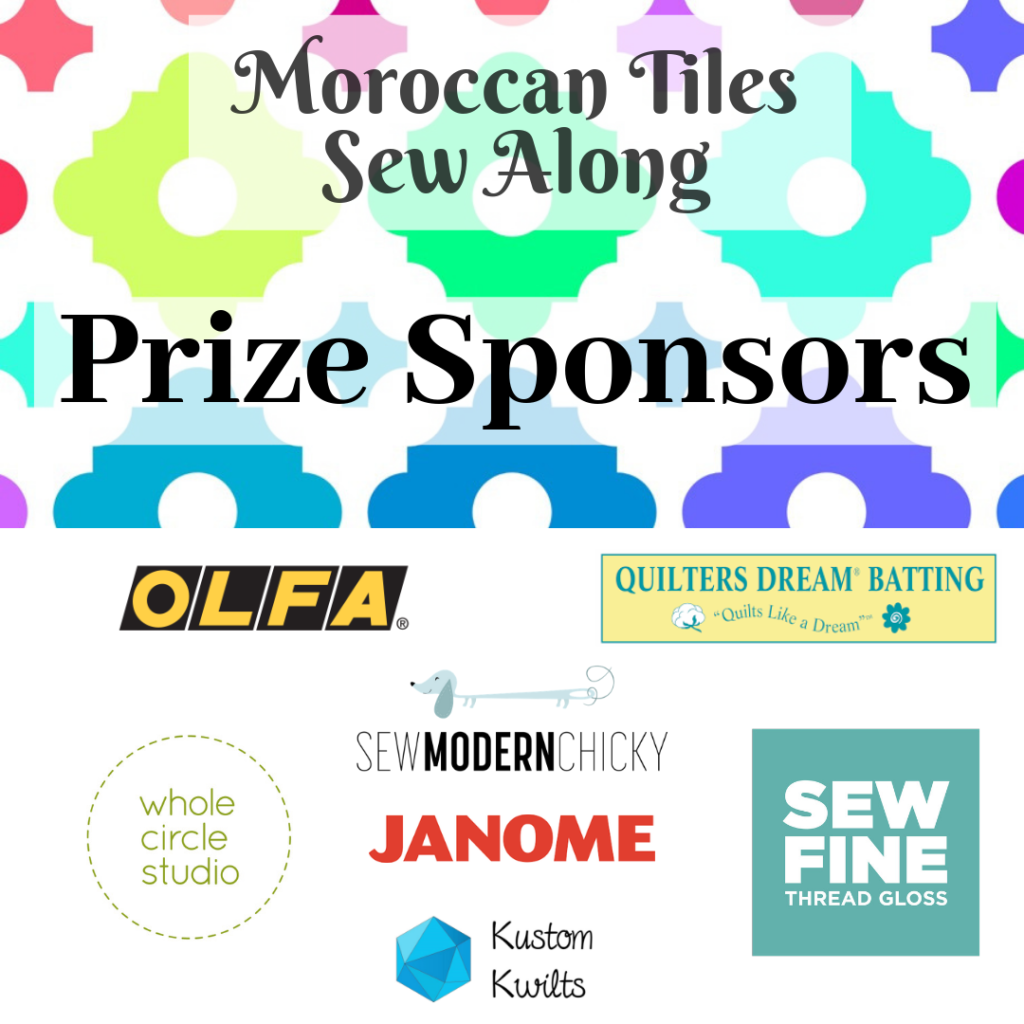 Thank you for joining in the fun, and I can't wait to start sewing with you! I'll see you in the Moroccan Tiles sew along!
-Joanna