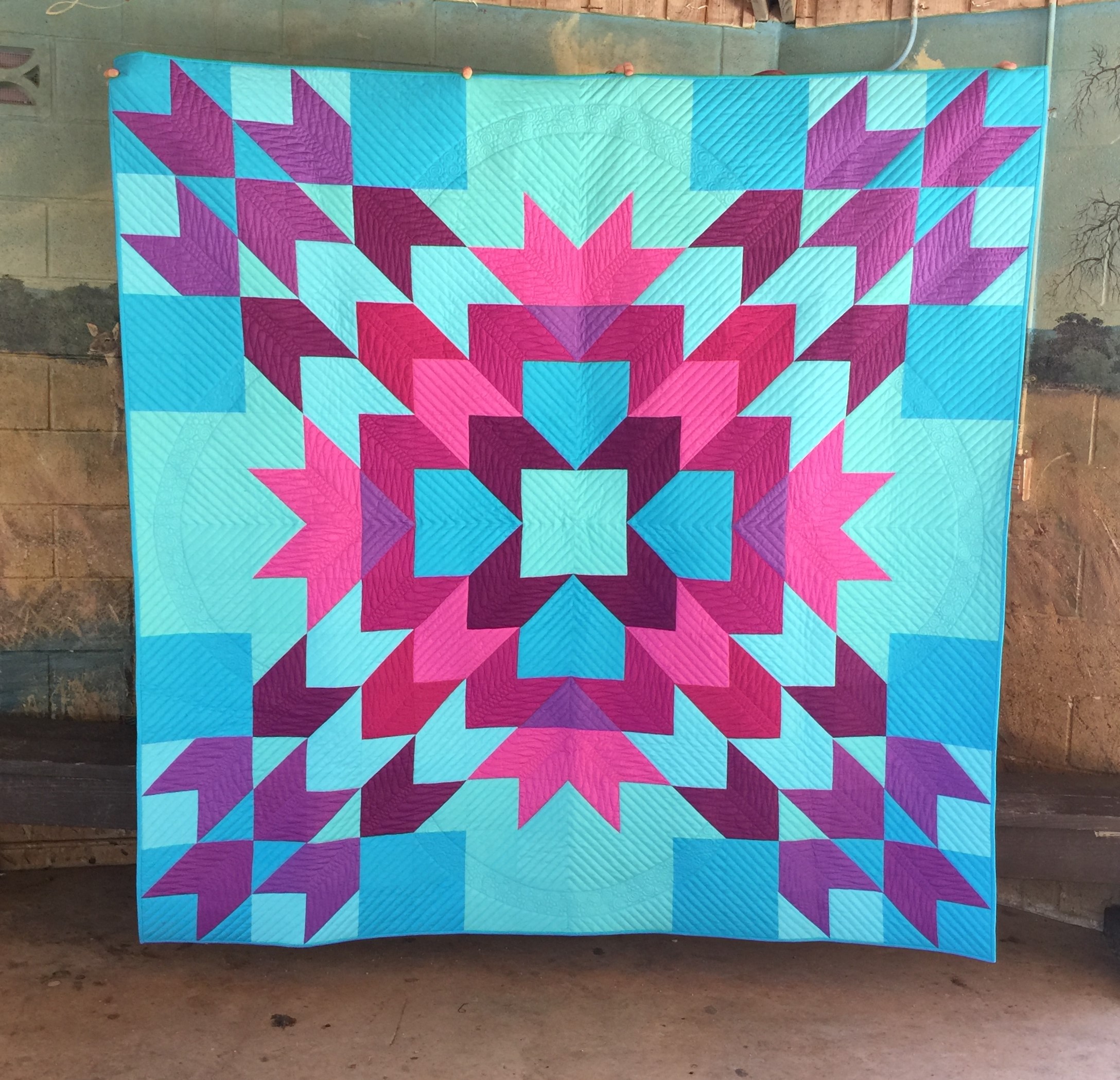 What Shade Are You? Blog hop
Hi!  I'm Joanna Marsh from Kustom Kwilts.  I live in the Texas Hill Country with my husband and baby girl.  I have been so captivated by all of the #whatshadeareyou projects and the RJR Cotton Supreme Solids, and I'm so excited to share mine with you on the RJR blog today–The Dreamer's Star Quilt!  You can check out my instagram @kustomkwilts to see what I'm up to.  I'm so excited to be featured on the RJR blog today with their amazing cotton supreme solids!  Check out the What Shade Are You? posts for some amazing inspiration here.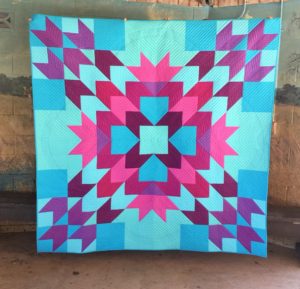 A little background on what brought me to quilting: In my previous career, I was a high school agriculture science teacher.  My principal's secretary was a quilter, and I mentioned to her that I was interested in starting to sew.  I remember her telling me the secret to quilting was a consistent quarter inch seam allowance–and that as long as I remembered that, I'd be okay!  I found a beginner's quilting book in my teacher mailbox one morning with a sweet note of encouragement from Donna Jo (principal's secretary), and that was how my sewing journey began.  Both of my grandmothers were amazing seamstresses, but I had never learned to sew from them.  One thing I've learned about the sewing community is that it's full of people who want to share their love of the craft with others, and I love being part of such a giving community!
In 2016, I left my teaching job and committed to sewing and quilting full time.  At my 9-5 job (really more like 5-9), I would find myself thinking about sewing in spare moments.  The Dreamer's Star Quilt is a quilt I drew while dreaming of doing the thing I love as a career, and I knew I wanted to use my favorite pattern for the What shade are you project.  The design reminds me of the toy kaleidoscopes that produce different images just by turning the end, and how the images can be so bold and impactful.  I love quilts that have a large central design and aren't necessarily block based.   I also remembered that when I started quilting, I struggled with selecting lots of fabrics to coordinate within a quilt, and I wanted a design that would look great with a two-color scheme, but could also make a big impact with lots of colors.  This is the original quilt that I used Michael Miller's painter's canvas with.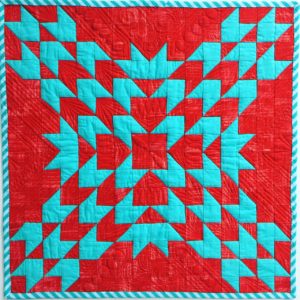 I knew that the Dreamer's Star Quilt would just glow with RJR Cotton Supreme Solids, and wanted to use colors that would reflect the gorgeous sunsets that we sometimes see out in the Texas Hill Country.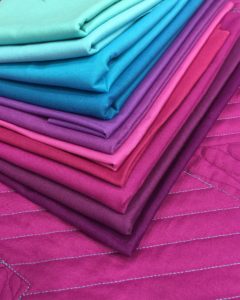 There are so many amazing colors to choose from and I went with 11 of my absolute favorites:
292-Turks and Caicos
279-Purple Haze
274-Riviera
317-Jacaranda
391-Robin's Egg
328-Bora Bora
422-Plum
371-Melody
333-Bougainvillea
287-Raging Ruby
378-Lilac Festival.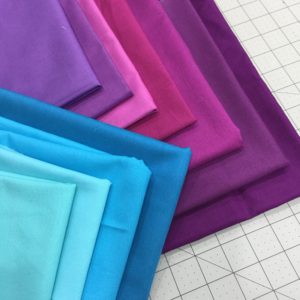 While I was browsing through the color card, I couldn't help but chuckle to myself about the clever names of the colors.  Some of my color selections might tell you that I'm ready to take a vacation 😉
Piecing the quilt together was a breeze with lots of simple half-square triangles and chain piecing.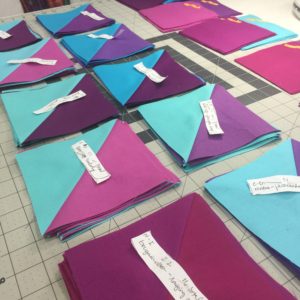 I love to use several shades of similar colors to create a little depth and dimensions to a quilt.  For the backing I used Bougainvillea with a strip of Bora Bora down the middle, and Turks and Caicos for the binding. I loved seeing all the colors melt together, but still be distinctly different, just as in a sunset.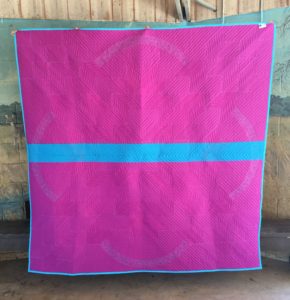 Once the top was completed, I loaded it on my longarm and quilted some simple straight lines with rulers and added some free motion accents in coordinating Glide threads.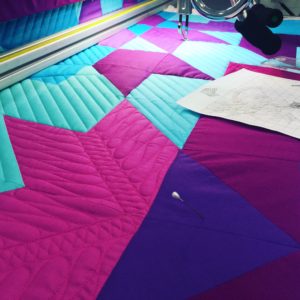 I love using Quilter's Dream Wool to keep the quilt lightweight–remember, I live in Texas–but still let the quilting pop.  I had a lot of fun getting some pictures at the Cibolo Wilderness Trail in Boerne, Texas.  It was an absolutely gorgeous day and my husband and mom were my professional quilt holders.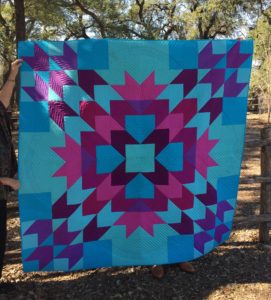 Check out other versions of the Dreamer's Star on Instagram with #dreamersstarquilt and you can pick up your copy of the pattern here.  The pattern comes with three different size options, and the color combinations you could choose are limitless!  I had so much fun making this quilt and drooling over the Cotton Supreme Solids.  Thanks for joining me in this quilting adventure, and a huge thank you to RJR for allowing me to participate and for the inspiration they bring with the #whatshadeareyou blog hop!
Quilt Details:
Pattern: 'Dreamer's Star' by Kustom Kwilts
Fabrics: RJR Cotton Supreme Solids (full list above)
Backing: Bougainvillea and Bora Bora RJR Cotton Supreme Solids
Binding: Turks and Caicos RJR Cotton Supreme Solids
Quilting: Long arm quilted by Joanna Marsh of Kustom Kwilts
Finished Size: Approx. 80″ x 80″