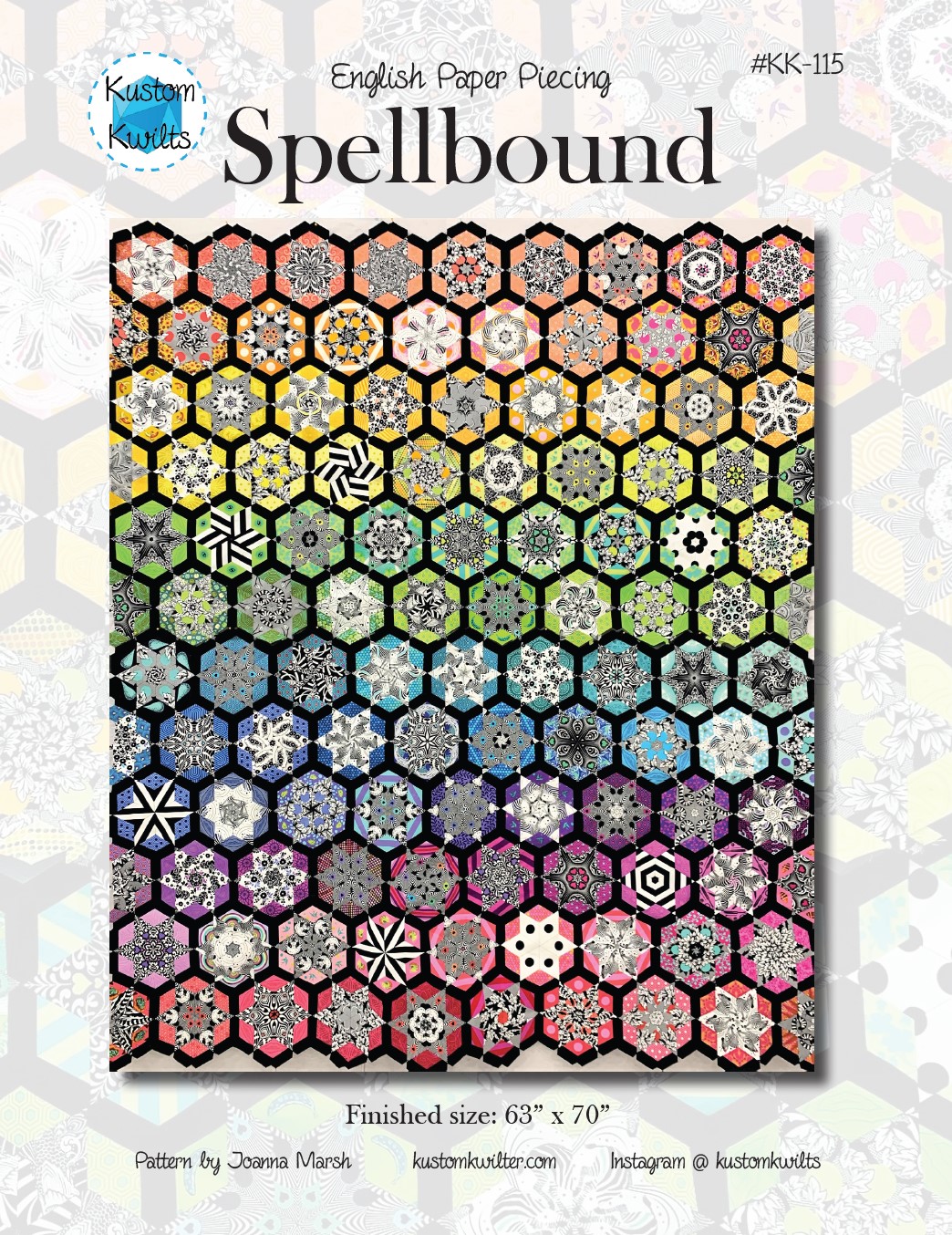 My labor of love (aside from longarming) this year has been the Spellbound EPP pattern! When Tula Pink released her black and white line called Linework, I knew I wanted to make something really special with it. I love black and white fabrics and adding a pop of color to them really sets them apart. I've had a blast on this journey picking the fabrics and fussy cutting different elements of each fabric to make it shine. The Spellbound quilt pattern will be available this Friday, October 29!
I am a little bit of a mover and a shaker. You know what I mean–I'm one of those people that can't stand to just sit idle and not do anything. If you're here, and reading this, you might have this problem too 😉 . If I have some free time and a free set of hands, you better believe I've got some EPP prepped and ready to go. Aside from longarm quilting (which I do almost all day), EPP is my favorite way to pass the time.
I always have a little EPP kit in my purse so that if I'm caught waiting at the doctor's office, or getting my car inspected, or whatever, I always have a little something to keep me busy AND productive (I posted a list of my favorites at the end of this post). I hate wasting so much time on my phone when I could be sewing something, right!?
It's such a convenient way to pack a little sewing kit and get things done when you otherwise couldn't. I love the portability and convenience of EPP, and my daughter Gemma has even helped me finish a few stitches. You can see a ton of my Spellbound EPP shares by heading over to Instagram.
The Spellbound EPP pattern includes these features:
Clear instructions and fabric requirements (calculated in solids so you have a baseline for how much fabric you need)
Coloring page to help plan your quilt
Yardage requirements that aren't usually included in EPP patterns
Step-by-Step instructions with pictures to guide you through
Instructions and diagrams for piecing quilt backs
Pattern includes printable templates for easy cutting
The option to purchase acrylic templates, making fussy cutting a breeze
Fussy Cutting? What's that?
Fussy cutting is one of my favorite things to do. And the Spellbound EPP pattern is made for fussy cutting! You basically take a fabric and look at the print on it. You decide what part of the print you want to show in your piecing and determine where your seam allowance will fall. A great way to look at this is with a set of two mirrors taped together to show how the pattern will repeat if you cut so many of the same print.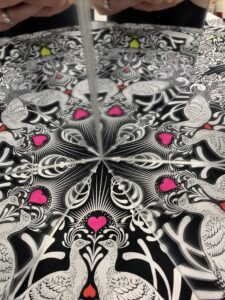 Once you decide on the area of the print that you like, you use the acrylic templates to fussy cut the print so it creates a new and unique repeat. Half the fun is turning the pieces in opposite directions to see how much of a difference you can get from one print! The images below show the same 6 pieces cut out–just rotated in a different way. What an impact that makes!
New to English Paper Piecing?
That's okay too. I've got you covered with a basic EPP video where I tell you about all my favorite tools, tips, and tricks for getting started with EPP. I've also got one on my favorite basting method –I'm team glue basting all the way. There are tons of different supplies, methods, etc. and every single EPP-er seems to have some pretty strong opinions about which method and what supplies they prefer. English paper piecing is a fun way to take a project with you, and I invite you to explore the different methods and find the one that you like the best!
My favorite English Paper Piecing Accessories