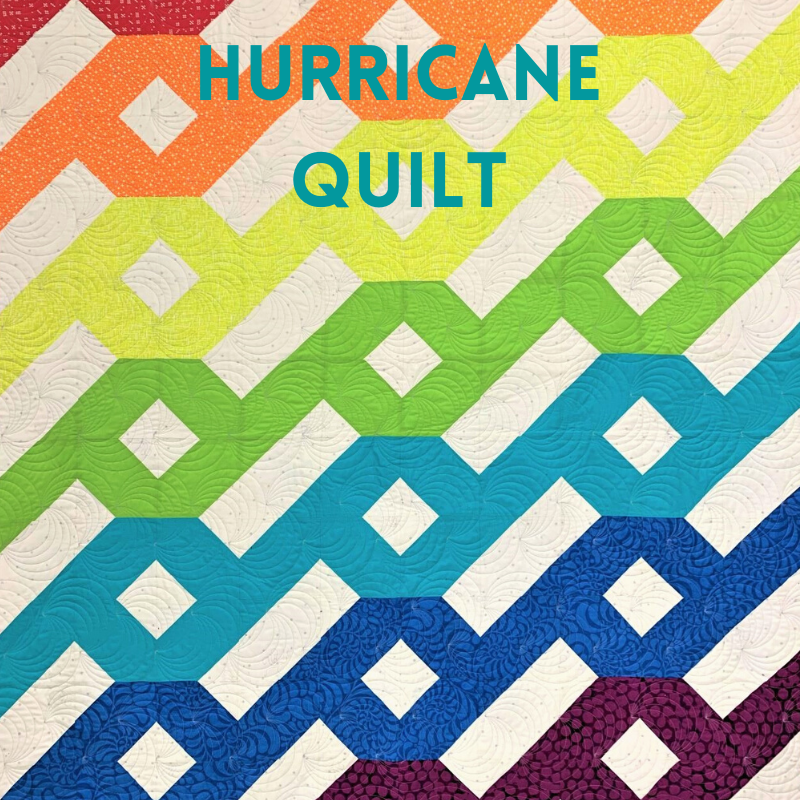 Today is the Hurricane quilt pattern Release Day! And I love to celebrate pattern releases with a sale, so you can get the Hurricane quilt pattern on sale through 8/10/2021 and use the code HURRICANE for 20% off everything else in my shop. You'll want to keep reading until the end because there are kits, too! Also, there are some sweet free patterns in there too, if you haven't checked them out!

Inspiration
Before we had kids, my husband and I started our work careers in Houston, TX. In the few years that we lived there, we had countless tropical storm warnings and a handful of pretty serious hurricanes. One particularly memorable storm was IKE. I had just started a new position at a brand new high school (really–it was the school's first year to be open) and we didn't know if we should stay and ride it out or evacuate. We ended up leaving after the storm hit and we lost power to stay with my parents a few hours away, since we didn't know when the power would be restored (spoiler, it came back on within a day…womp, womp). My new high school sustained a lot of damage and, if I remember right, closed for two weeks for repairs.
I can't stand bad weather…but love to make the best of it
If you've ever evacuated an area in hurricane/tropical storm territory, you've probably noticed the little graphic painted on the highway shoulder and marked on road signs to indicate a storm route evacuation. I really can't stand storms and bad weather, and I remember thinking how much I liked the little symbol and the hundreds of painted ones we passed on our way out of town–in spite of what it stood for. The symbol for those storms has always stuck with me and I needed to create a scrapbook of sorts with the symbol. So the hurricane quilt pattern was born and it ALMOST makes me not hate those destructive storms and what they stand for. I like to think of it as a way to turn lemons into lemonade 🙂 .
The PDF and print copies are here for you to make your own stunning Hurricane quilt. I've made sure this pattern is jam packed full of all the resources you might need or want, including:
Hurricane Quilt Pattern Features
Easy to read cutting diagrams
FIVE sizes, including:
Easy to read color-coded charts and diagrams
Cutting chart/checklist
Clearly written instructions and colorful diagrams
Backing prep diagrams for each size
Coloring/planning sheet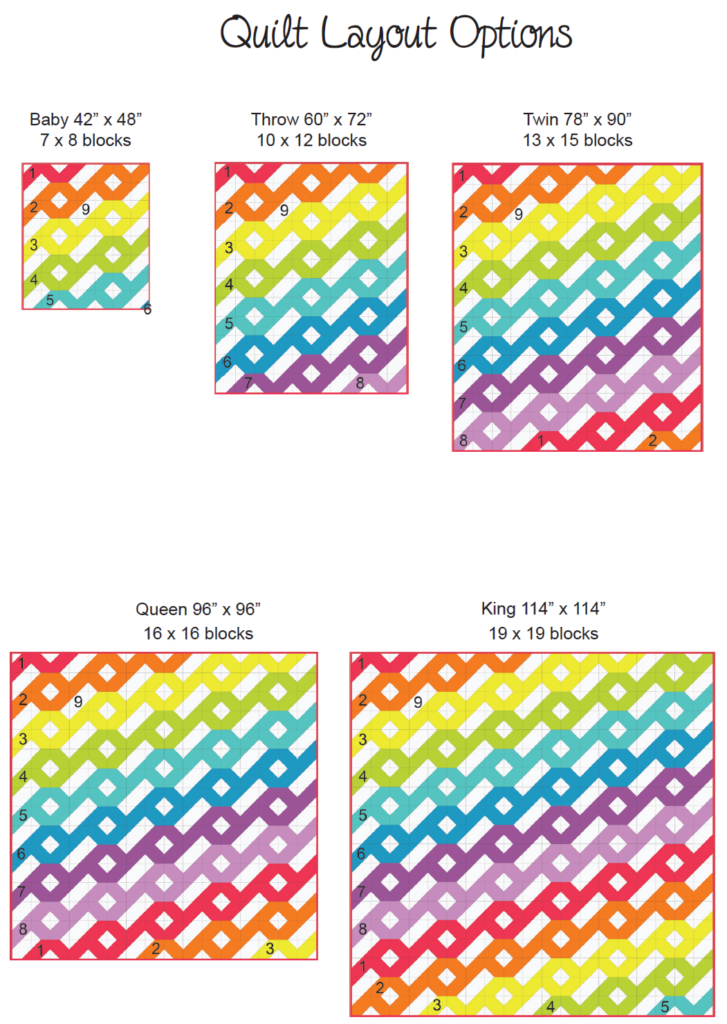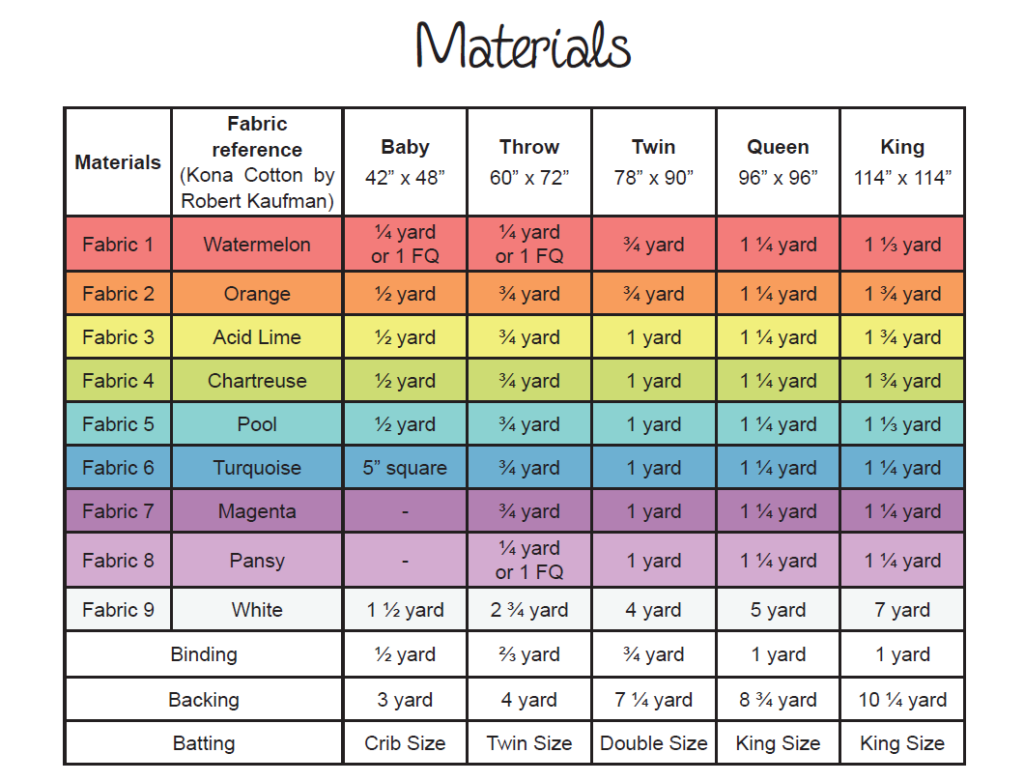 Some of my favorite versions of this quilt come from using darker backgrounds and BRIGHT fabrics to create some great eye candy. I love how my first version using just a few fabrics came out with a light background too. My top suggestion for making an amazing Hurricane quilt is to use fabrics that have good contrast from the background fabric. I pulled all of these delightful fabrics from my stash to get the rainbow effect I wanted and I just love how it turned out.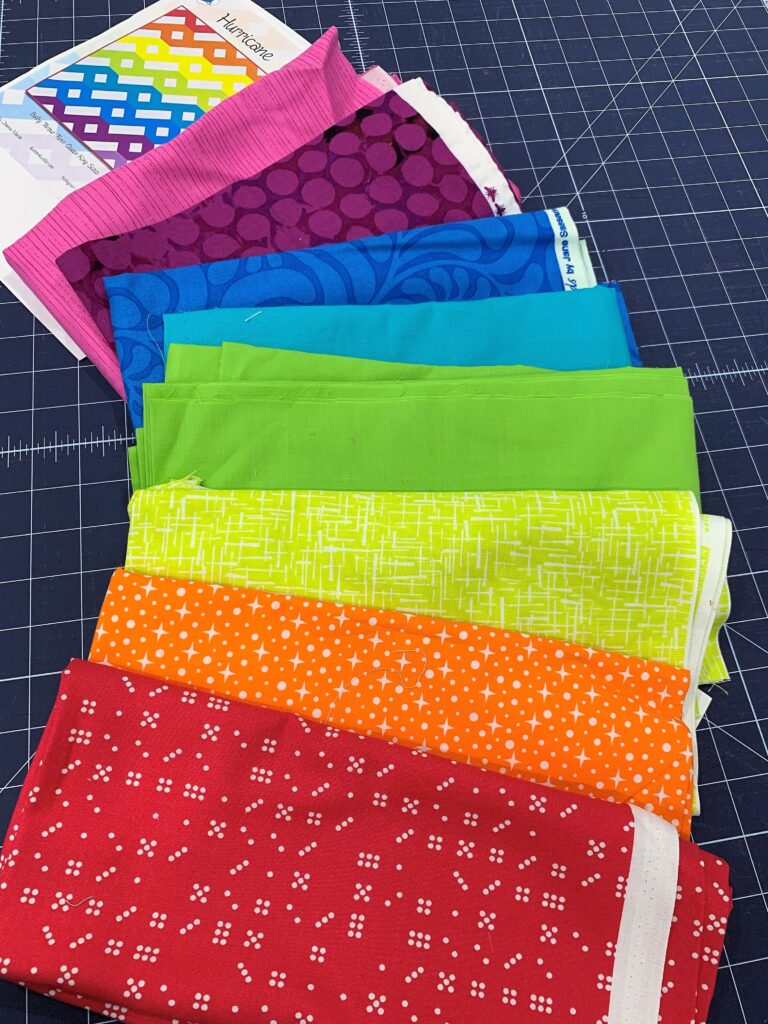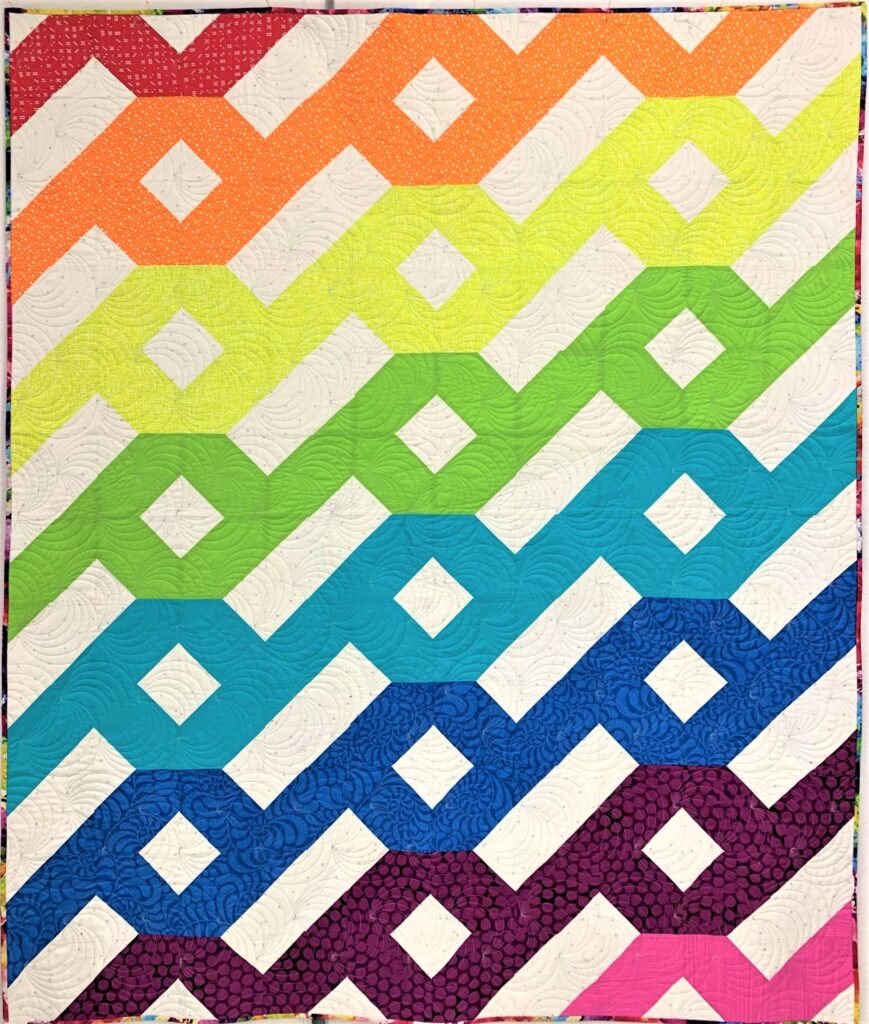 Kit it!
Sometimes when I'm making a quilt, it can be a hassle to do a fabric pull from my stash and make sure I have the right amounts of each color. And it can be nice to pull up a kit that's already put together in a gorgeous fabric line, right? Kits are available from select quilt shops & from Robert Kaufman in Leslie Tucker Jenson's Weather Report fabric. The fabric line really couldn't go any better with the pattern and I just love these fabrics! My friend Leslie is one of the most talented fabric designers out there. These fabrics are projected to ship sometime during fall 2021.
Also, custom quilting is my go to and I quilted the Hurricane quilt below using two different thread colors for a subtle difference in between colored fabrics. I used Michael Miller Cotton Couture Solids for this green and blue version because I love how soft they are.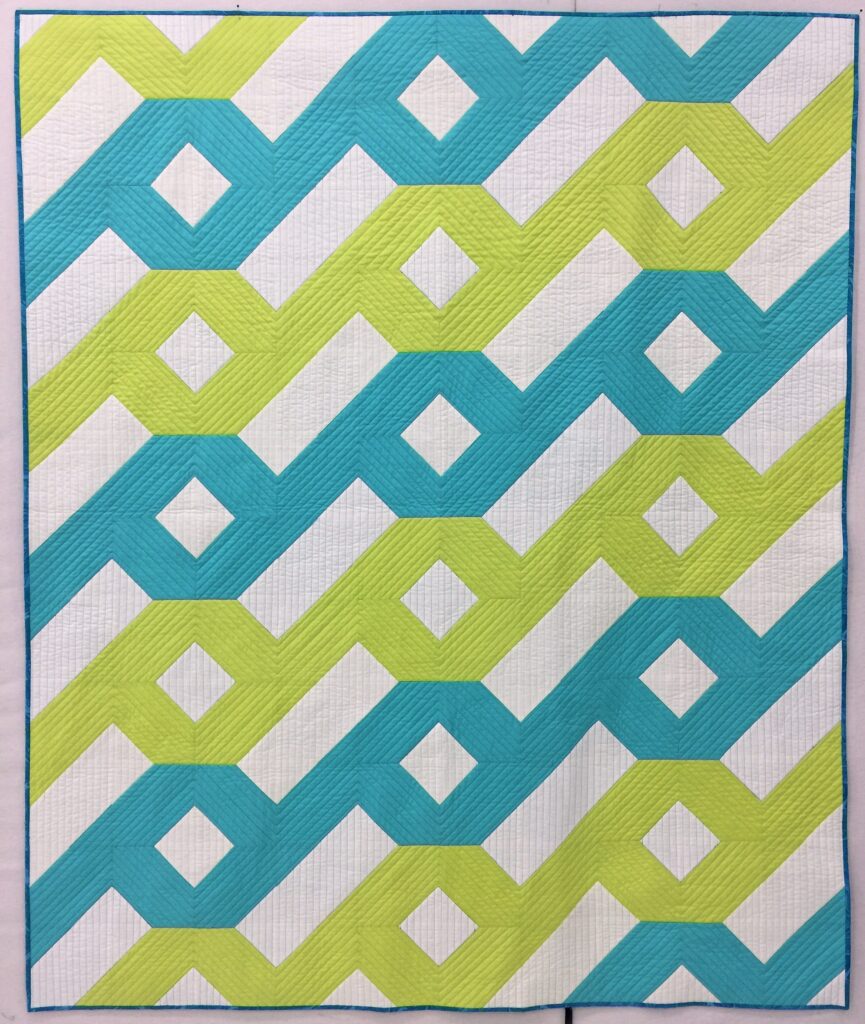 I'd love to see your version of the Hurricane quilt! Share your makes with me using the #hurricanequilt hashtag on Insta or shoot me an email so I can ooooh and ahhhhh with you! Happy sewing, quilty friends!
-Joanna