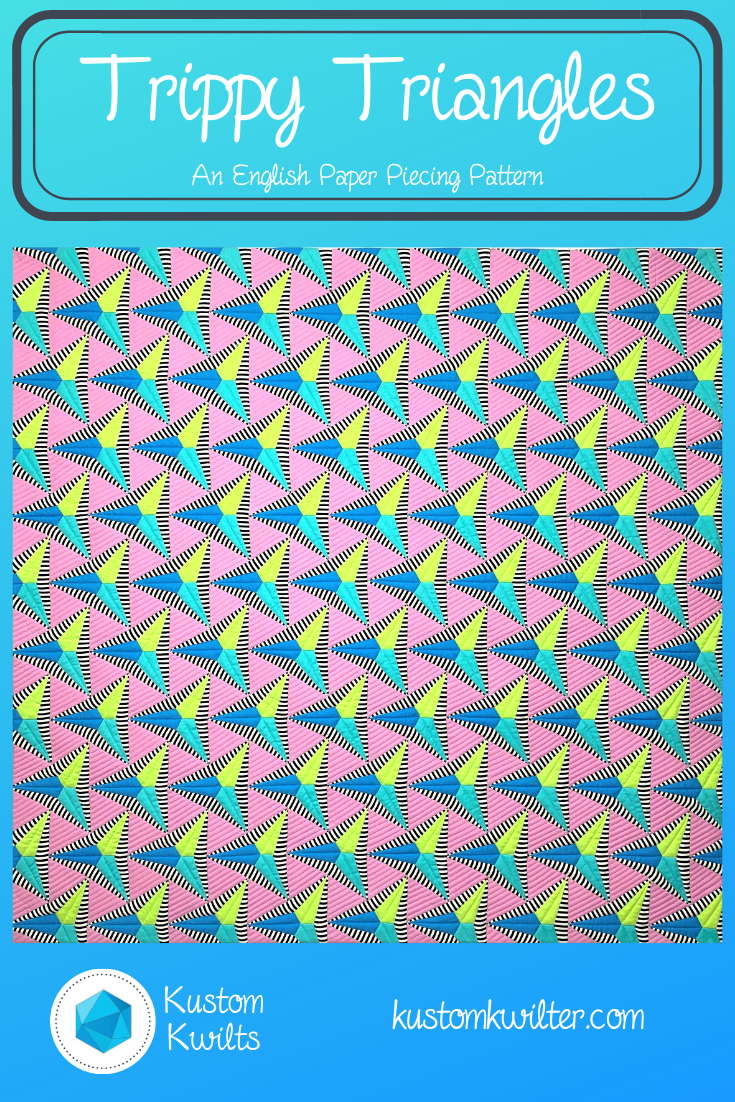 I'm stoked to finally introduce to you the Trippy Triangles Quilt pattern! This quilt has been a pet project of mine for the last year (and then some). From picking just the right fabrics–I changed my fabrics several times before I finally got with it stitching–to fussy cutting, etc. and I've loved every minute of it. I'm currently working on another version and planning yet another with some fun fussy cutting 🙂
The thing with EPP
Here's the thing with English Paper Piecing: It's an obsession of mine. Aside from longarm quilting (which I do almost all day), EPP is my favorite way to pass the time. I always have a little EPP kit in my purse so that if I'm caught waiting at the doctor's office, or getting my car inspected, or whatever, I always have a little something to keep me busy AND productive. I hate wasting so much time on my phone when I could be sewing something, right!? It's such a convenient way to pack a little sewing kit and get things done when you otherwise couldn't.
New to English Paper Piecing?
That's okay too. I've got you covered with a basic EPP video where I tell you about all my favorite tools, tips, and tricks for getting started with EPP. I've also got one on my favorite basting method –I'm team glue basting all the way 😉 And there's another video tutorial with the pattern that shows you how to sew the pieces together if you haven't done that before.
I just love this funky geometric twist on EPP and I can't wait to see how you fussy cut (or not) and make this your own! Trippy Triangles was shown at QuiltCon 2020, and was a featured quilt in the QuiltCon magazine (among some other AMAZING quilts!)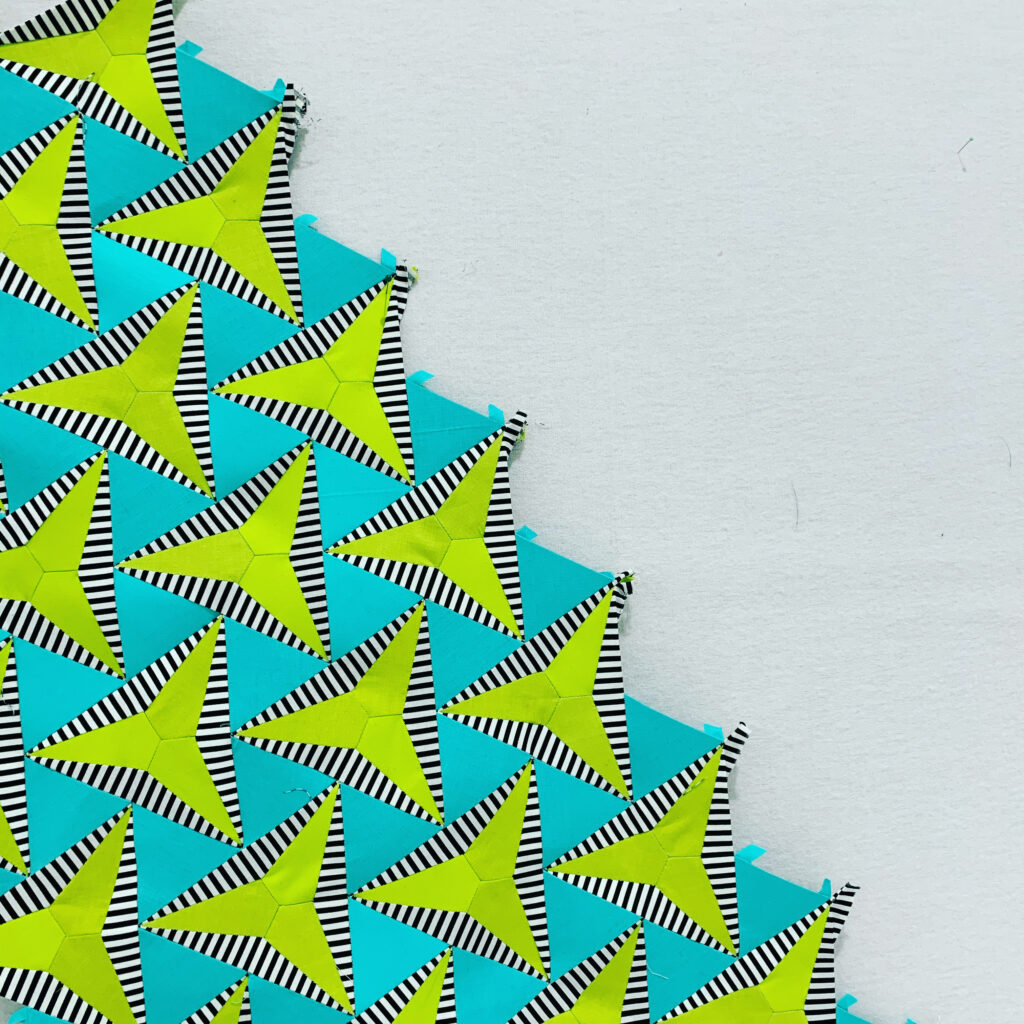 The Trippy Triangles Pattern includes these features:
Clear instructions and fabric requirements for baby and throw quilt sizes (is easily modified for other sizes)
Coloring page to help plan your quilt
Yardage requirements that aren't usually included in EPP patterns
Step-by-step instructions with pictures to guide you through
Instructional videos with great tips
Instructions and diagrams for piecing quilt backs
Pattern includes printable templates for easy cutting
The option to purchase acrylic templates separately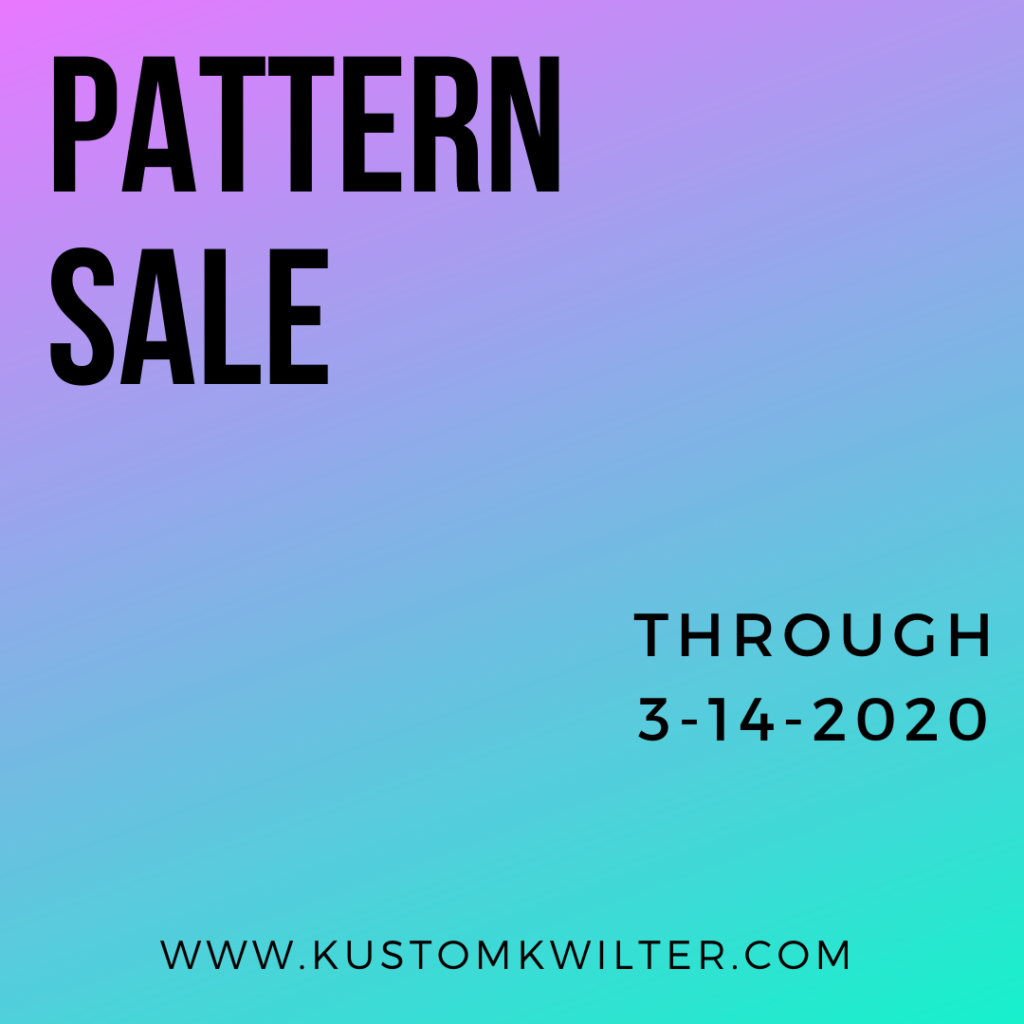 The Trippy Triangles pattern and acrylic templates (along with all other quilt patterns in my shop) will be on sale through March 14, 2020 (and you can get an even steeper discount if you purchase the papers bundled with the pattern and templates!). I can't wait to see your Trippy Triangles, and I hope you'll share with me via email or using the hashtag #trippytriangles .
You can check out some of the cool tester photos and the fabrics they've picked below: