Love Patchwork and Quilting Issue 54
Who doesn't love a little churn dash quilt?  I know I can't seem to get enough of the traditional block that basically represents butter being churned!  Have you peeked in issue 54 to check it out?  I'll tell you a little bit about the design…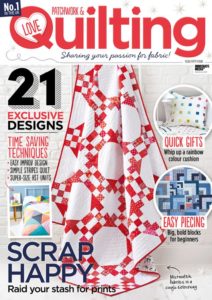 I'm so excited to share my most recent quilt with you from the Love Patchwork and Quilting Issue 54.  I'm inspired by bright, saturated colors–and that's typically the palette I use.  But for this quilt, I opt for a more subtle palette. The cheery sherbet colors and hints of greys that are sure to make you swoon!  This quilt- "Sorbet Shades" in the mag, is inspired by one of my favorite traditional quilt blocks–the churn dash.  This block is so rich in history and I love that it can be interpreted in a modern way.  I have a great appreciation for the traditional quilt blocks and the colors they typically have.  I also love seeing them updated in a more modern way.
One of the first quilts I made when I was learning to sew was a traditional churn dash quilt.  My mother and I gave this special quilt to my grandmother prior to her passing.  The churn dash block represents so much more to me than just a traditional quilting block.  The simplicity of the block lends itself to being altered in construction in so many ways.  The possibilities for this block are limitless!  I quilted this quilt with swirls on the white background and simple straight lines on the colored blocks.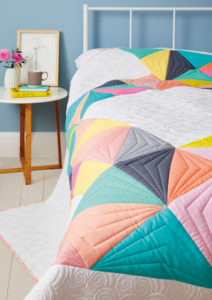 For this project, I use some delightful Kona Cotton Solids and create a coordinating pillow to go with the quilt.  The colors in these projects really make me want some ice cream and macaroons–or really any other cute little pastel dessert!  I hope you'll checkout the issue (digital issues are available here).  Don't be afraid to try your hand at breaking out of the traditional box to create a modern spin on traditional.  (photos above provided by Love Patchwork and Quilting).