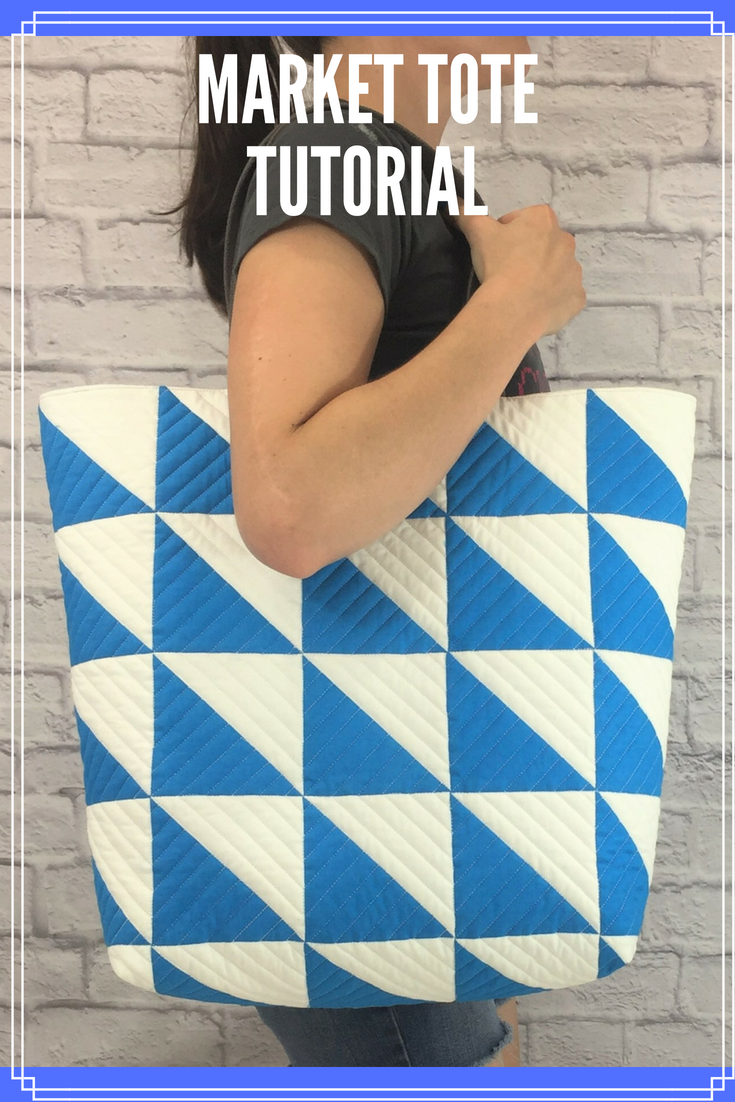 This week's blog post has some real treats in it–There's information about the giveaway that Crafter's Companion is so generously sponsoring, and a free tutorial for a modern Market Tote.  Check out my previous post for more info about the Build-A-Block.  And I know a lot of you won't be able to wait for the giveaway results to get your hands on this, so be sure to use the promo code QUILTEASY to purchase the Build-A-Block and you'll receive a set of threads and a six-piece fat quarter bundle valued at $41.95!!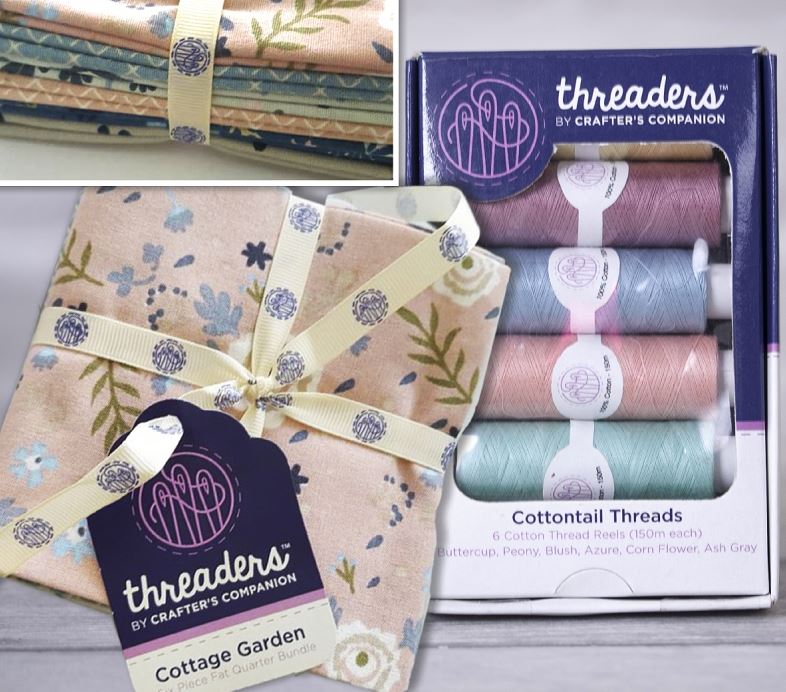 I've been using the Build-A-Block system and Gemini die cutting machine for a few weeks now, and I'm so excited to be a brand partner with Crafter's Companion!  The dies that come with the Build-A-Block system make it so easy to cut out all the pieces you need for a project–with no trimming after the fact.  I'm a super fan of half-square triangles and quarter-square triangles, and I use them in just about every pattern I make.  The process is made so much easier by just layering your fabric and die, running it through the Gemini, and cutting it up fast!  If you'd love to get your hands on your very own Gemini and Build-A-Block system, here are the details for the giveaway:
Giveaway Details – a Gemini Machine and Build-A-Block system
Giveaway is sponsored by Crafter's Companion and opens September 1, 2018 and ends September 14, 2018 at 11:59 PM, PST
Winner will be notified via this blog post no later than Monday, September 17, 2018, and must provide a US shipping address once notified.
Giveaway prizes can only be shipped in the United States.  Crafter's Companion reserves up to 30 business days to distribute prize to giveaway winner.
In order to enter, you must:
Good luck!!!
So I'm really pumped to bring you a free tutorial for the Market Bag–it's a simple carry all bag with a clean modern look that's great for the farmer's market, grocery shopping, gym bag, or whatever you'd love to use it for.  I used Threaders™ Linen Look Cotton in White for the lining of my Market Tote–I like a clean white lining so I can easily spot the things I need in my bag, and the linen feel of the fabric is a little heavier duty than plain quilting cotton, so it will really stand up to the test of time!
Quilted Market Tote Tutorial 
Finished bag dimensions: 16" tall x 13" wide x 6" deep
Materials needed:
Gemini™ & Build-A-Block™ die cutting system and 4.5" HST die
4.5" Half square triangle Build-A-Block™ die cutter
(2) 23" lengths of 1-1/4" cotton webbing for straps
(1) 25" x 45" piece of fabric for the quilt sandwich (will not be visible when bag is complete)
(1) 25" x 45" Soft and Stable or 2 pieces of 25" x 45" batting layered together
1 yard of Threaders™ Linen Look Cotton in White sub cut into
5/8 yard Fabric A (White fabric) sub cut into
5/8 yard Fabric B (Blue fabric) sub cut into
Sewing machine
Needle
Thread for piecing
Thread for quilting
Pre-wound bobbin
Thread snips/scissors
Binding Clips/sewing pins
Fabric marking pen
Iron and pressing mat
Rotary cutter/ruler/mat
Starch (optional)
HST-Half-square triangle, RSO-Right side out, RST-Right sides together, RSD-Right Side Down, RSU-Right Side Up, all seam allowances are 1/4" unless otherwise specified.  It is recommended to starch the fabrics for the HSTs prior to cutting them, as they will be sewn on the bias.  This will help minimize distortion of the fabric.
Cut out and assemble the HST units
Use the 4.5" HST die for the Gemini Build-A-Block to cut the HST units. Follow the steps for layering the fabric in the cutting plates and shims per the Gemini and Build-A-Block instructions.  Layer up to eight of the 5.5" squares of Fabric A at a time in the Gemini, with the 4.5" HST die cutting the fabric.  Position the die so you are able to get two cuts from the square.  Cut a total of 50 HST pieces from Fabric A and 50 HST pieces from Fabric B (see Fig. 1).  Your HSTs will measure 4.5" when completed.
Take one HST piece of Fabric A and one HST piece of Fabric B (see Fig. 2). Place them RST, aligning the diagonal edges, and pin in place.  Sew along the diagonal with a 1/4" seam allowance (see Fig. 3).  Repeat to create a total of 50 half-square triangle blocks.  Press seams.

Figures 1, 2, 3, and 6

Layout the 50 HST blocks created in step 2 into a 5 x 10 grid (see Fig. 4).

Figure 4

You can position the HSTs in any way you like, rotating them, etc.  Sew each row of five blocks together by placing two blocks RST and sewing together with a 1/4" seam allowance (see Fig. 5).

Figure 5

Repeat and sew another block to those two until you have one row of five blocks.  Press seams.

Repeat step 3 until you have used all 50 HST blocks and have ten completed rows.
Take two rows and place them RST and pin in place, being careful to match the seam intersections (see Fig. 6). Sew together with a 1/4" seam allowance.  Repeat until all ten rows are sewn together into one piece (see Fig. 7).

Figure 7

Make a quilt sandwich by taking the 25" x 45" piece of fabric for the back of the quilt sandwich and placing it RSD. Layer the Soft and Stable (or batting) on top of it.  Then place the HST pieced top on top of the batting, with the right side up.  Baste the layers together using your desired method.   Quilt as desired.
Take the quilted piece to the cutting mat and use a ruler and rotary cutter to square up and trim away the excess batting and fabric (see Fig. 8). If you quilted the fabric very densely, measure the new dimensions of the quilted piece, as this will sometimes shrink up the fabric a little.  You will use those new dimensions to measure and cut or trim down the lining for the tote bag (if different from 20" x 40").
Assembling the market tote
Fold the quilted piece in half RST, matching the 20" ends and use binding clips or pin to secure the sides (see Fig. 9). Sew together with a 1/4" seam allowance up each side, leaving the top of the bag unsewn (see Fig. 10).  With the bag still wrong side out, use a ruler to measure and mark a 3" square in each lower corner of the bag (see Fig. 11).  Flip the bag over and repeat on the opposite side.

Figures 8-11

Make a "tent" with one corner by pinching the bag together, and lining up the lines you just drew with each bottom corner, so the lines you drew give you one straight line to sew on. Pin in place or use binding clips to secure (see Fig. 12).  Sew directly on the line you marked (see Fig. 13).  Repeat for the remaining corner of the bag.  Trim the seam allowance to 1/4" and discard the trimmings (see Fig. 14).

Figures 12, 13, 14, 17

Repeat steps 8 and 9 to assemble the lining, with one exception. When sewing the sides of the lining together, leave a 6" opening in the middle of one side for turning the bag right side out at the end.
Turn the quilted exterior RSO and leave the lining wrong side out. Take the quilted exterior and lay it flat.  Measure and mark 6" in from each side seam on one side of the bag.  Place the outer edge of one end of the strap against the 6" mark, with about 1" hanging off the edge of the bag.  Pin or clip in place.  Fold the other edge of the strap over (make sure you're not twisting the handle) and place its outer edge against the remaining 6" mark, again with about 1" hanging off the edge of the bag (see Fig. 15)

Figure 15

.  Pin or clip this strap in place as well.  Repeat with the remaining strap on the opposite side of the exterior.

Place the exterior (still RSO) inside the lining (still wrong side out), making sure the straps are neatly tucked between the exterior and the lining and still pinned in place (see Fig. 16).

Figure 16

Match the side seams and secure the tops together with binding clips.  Sew the two layers together, catching the straps between the two layers, with a 1/4" seam allowance, backstitching at the start and stop.  Sew all the way around the top of the bag (see Fig. 17).

Carefully turn the bag right side out through the 6" opening in the side of the lining. Prior to tucking the lining down inside of the bag, turn the raw edges of the 6" opening inwards then stitch closed by hand or machine.  Push the lining down inside the bag.
Press the top of the bag so the lining and exterior sit neatly at the top of the bag, then topstitch around the top perimeter of the bag, about 1/8" from the edge (see Fig 18.).

Figure 18

Now you're ready to fill your modern Market Tote up with all the goodies you can carry!  I hope you're as excited about the Build-A-Block system as I am–It has significantly cut down on the time I spend preparing my fabrics and eliminating the need to trim all my blocks down.  Sew up this great tote in just a few hours, and don't forget to enter the giveaway!  Happy sewing 🙂