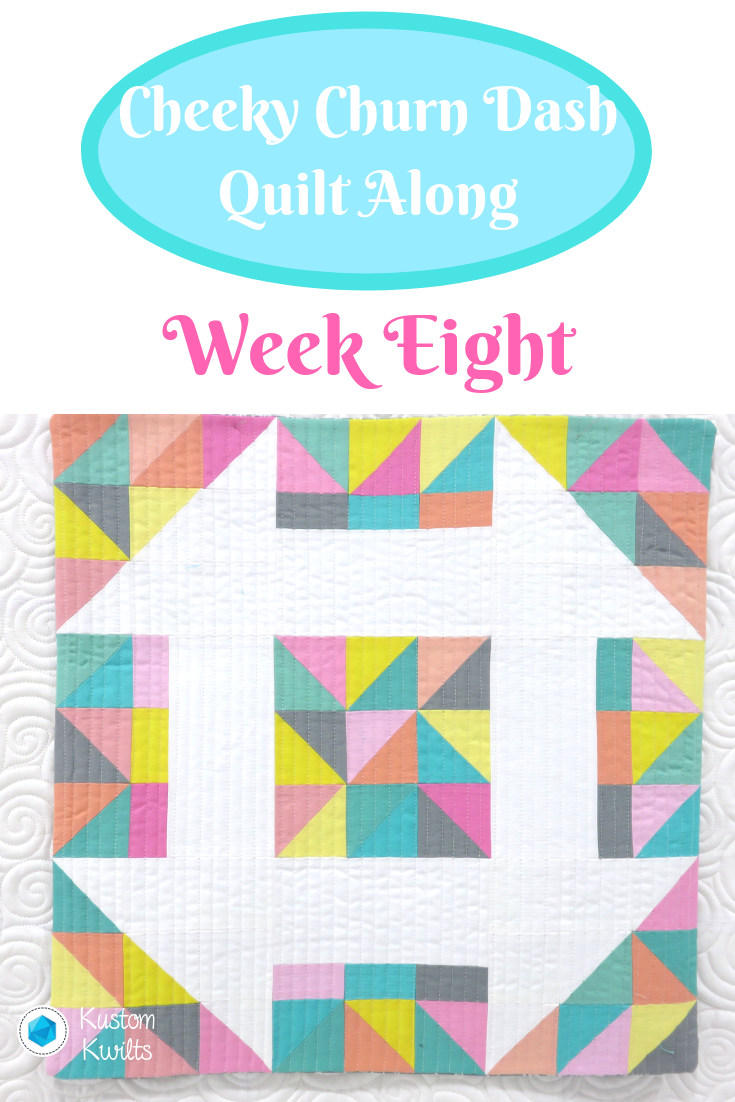 Quilt Along – Week Eight
We're moving right along into Week Eight of the Cheeky Churn Dash Quilt Along!  Head over to the Original QAL Post to review the details and schedule, if you need to.
A quick review of what we've done so far–scroll to the bottom of this page for links to each weekly post.
Congratulations to Erica B. for snagging the Week Six prize-a Small Spool Thread Set from Aurifil!  This prize was sponsored by the awesome people at Aurifil Thread.  This was Erica's post from Week Six: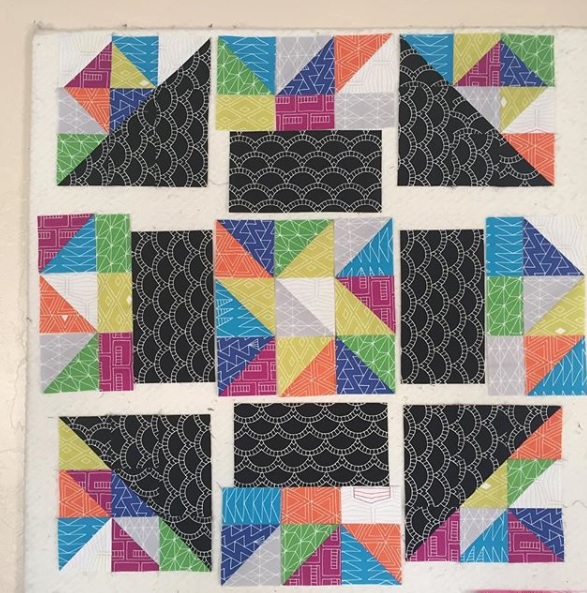 Fabric Discount!
Jennifer at Knotted Threads on Etsy has joined in the Quilt Along fun to bring all Cheeky Churn Dash QAL participants a 10% discount on fabrics purchased from her shop!  She has a great selection of current and modern fabrics, so you'll want to take advantage of this 
  Use the coupon code: CHEEKYCHURNDASH at checkout.
How to Participate:
Post Your progress on Instagram using the hashtag #cheekychurndashquiltalong
Be sure to include the hashtag when you post to Instagram so everyone else can see what you're up to, and if you're in the US, you can enter to win prizes 
Stay in the loop!
If you haven't signed up for the weekly emails that will go out for the Quilt Along, sign up here.  There might be some added info and bonus content for you as a little treat!
Alright, so here's the breakdown for Week Eight: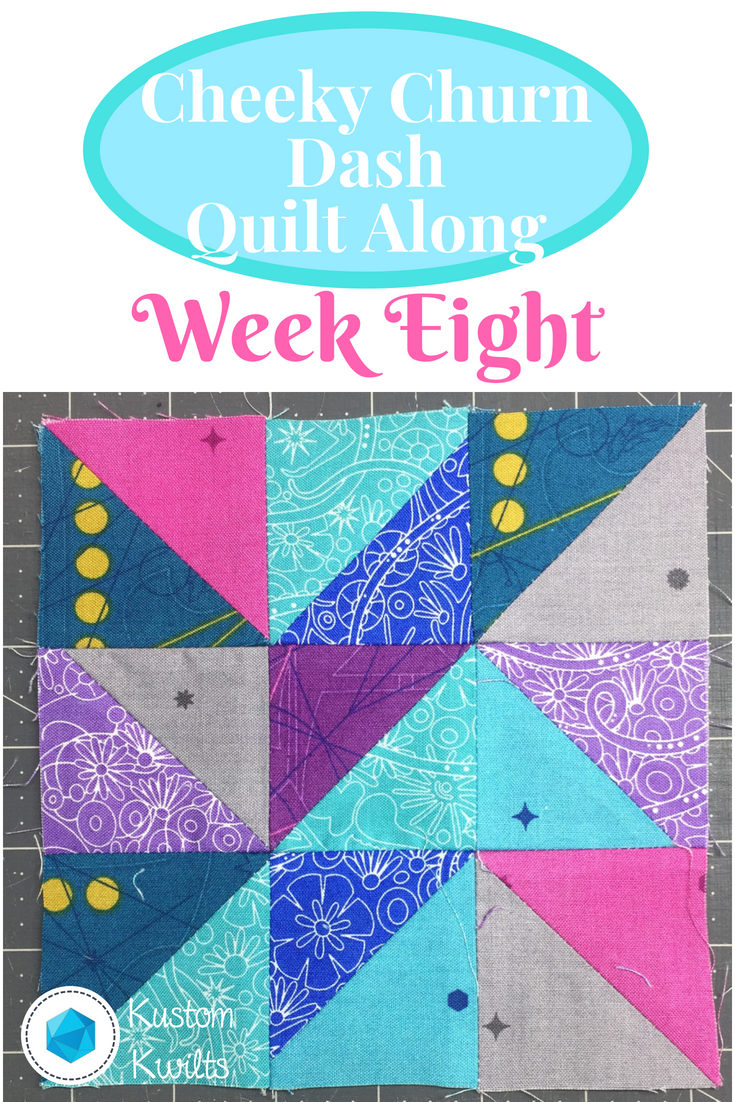 In Week Seven, we assembled sections 2, 4, 6, and 8.  Here's the action list to complete for Week Eight!
If you're on Option A–you've got another rest week.  Your section 5 is already in one piece.
Option B can be found on page 22 in your pattern this week.  
Obviously, I cheated on the photos for Option B.  It's much easier to photograph the mini/pillow Option B than it is the large quilt option.  So let's pretend these are 9.5″ squares pictured above, instead of 2.5″ squares 😉
Take a look at your coloring sheet–and lay out your pieces prior to pinning and sewing the sections together.
Section 5 is basically a large nine patch block.  So you'll sew three rows of three HSTs together, then sew those rows together to complete section 5.
Make sure you check that you pin at your seam intersections whenever you have a seam intersection so everything lines up as it should.
The only really tricky thing to sewing section 5 together is watching the direction of the diagonal in each HST block.  Honestly, if you don't follow the pattern layout 100%, it will still look great, and no one will be the wiser that you didn't!
Double check your layout prior to sewing each section together, and press when you're done!
This week, post a picture of your completed section 5 on Instagram using the #cheekychurndashquiltalong hashtag.  It doesn't matter if your completed section 5 is for Option A or B, just post a quick pic and be sure you post your IG picture with the hashtag before the start of Week Nine to qualify for this week's prize!  Week Eight's prize is a Double Sized Batting of your choice (meaning you can pick any of the substrates their batting comes in-cotton, wool, blend, poly, etc.) sponsored by Quilter's Dream Batting!  The amazing folks at Quilter's Dream are so awesome to be giving this away–I use their batting exclusively in my studio, and it's absolutely the best.   A huge thank you to Quilter's Dream for sponsoring Week Eight's prize!
Next week, we'll be sewing the quilt top together.  You guys, we're almost done!!!
Cheeky Churn Dash Quilt Along Posts:
Week One – Introduce yourself and gather your fabrics
Week Two – Starch and cut your fabrics
Week Three – Assemble and press the HSTs
Week Four – Square up and trim all HST blocks
Week Five – Assemble sections 1, 3, 7, and 9
Week Six – Catch Up!
Week Seven – Assemble sections 2, 4, 6, and 8