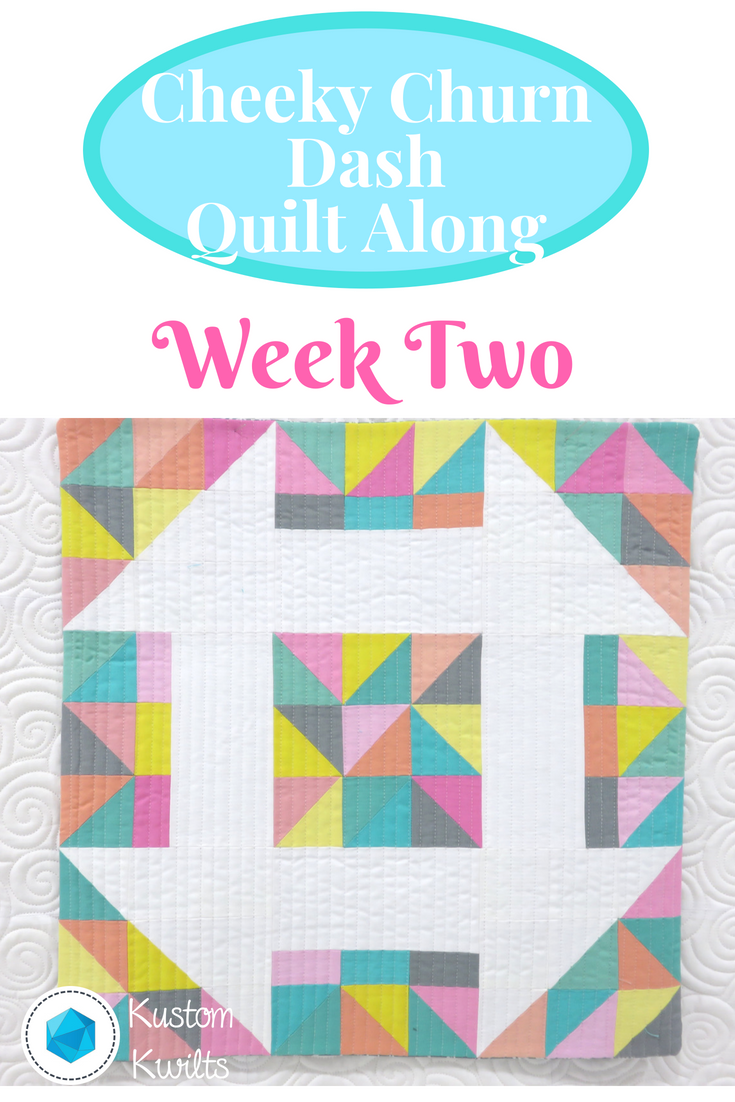 Week Two
We're moving right along into Week Two of the Cheeky Churn Dash Quilt Along!  Head over to the Original QAL Post to review the details and schedule, if you need to.
The Quilt Along
Materials Needed:
Select the Option you want to make (Option A or Option B) and grab your fabric:
Fabric Discount!
Jennifer at Knotted Threads on Etsy has joined in the Quilt Along fun to bring all Cheeky Churn Dash QAL participants a 10% discount on fabrics purchased from her shop!  She has a great selection of current and modern fabrics, so you'll want to take advantage of this 
  Use the coupon code: CHEEKYCHURNDASH at checkout.
How to Participate:
Post Your progress on Instagram using the hashtag #cheekychurndashquiltalong
Be sure to include the hashtag when you post to Instagram so everyone else can see what you're up to, and if you're in the US, you can enter to win prizes :).  Just make sure you post the weekly prompt to IG by 11:59 CST on the Friday that ends that week.
Stay in the loop!
If you haven't signed up for the weekly emails that will go out for the Quilt Along, sign up here.  There might be some added info and bonus content for you as a little treat!
Alright, so here's the breakdown for Week Two: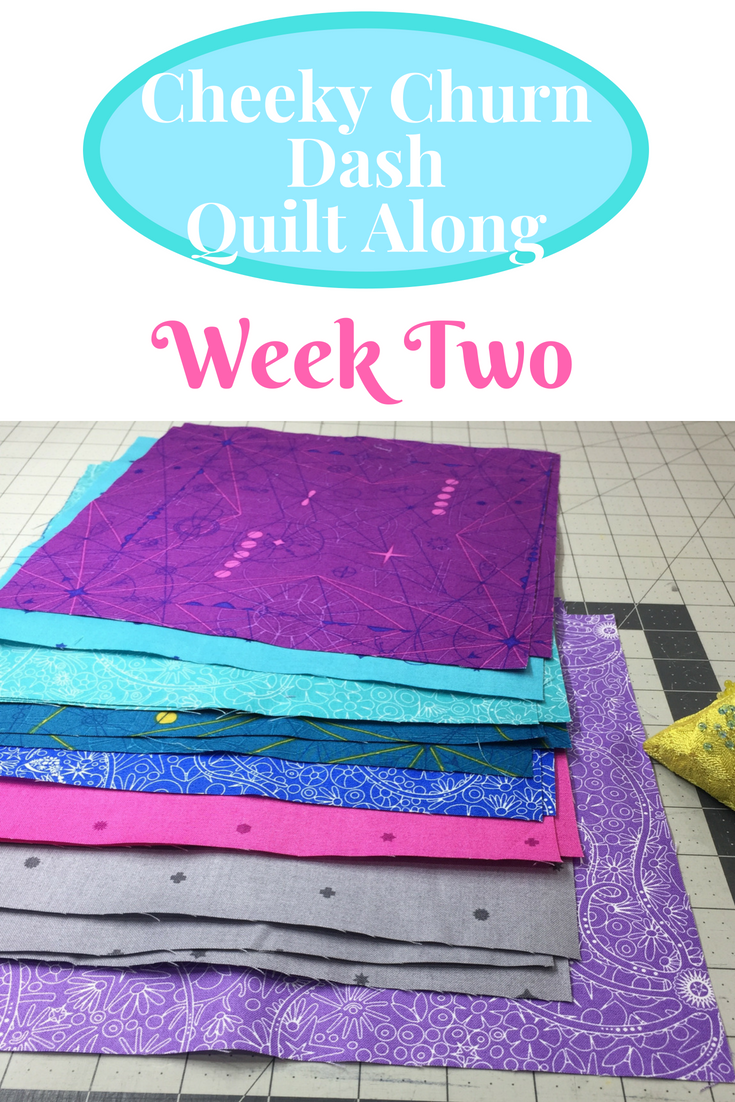 Starch all your fabric prior to cutting (unless you're using the Accordion Sew HST™ method)

Tips for starching:  I recommend using a starch with body–like the Faultless brand, or another inexpensive option from your grocery store's laundry aisle–it will stiffen your fabric and lessen the chance for distortion if you're going to be messing with bias cuts.

I like to spray the entire piece of fabric so it's damp all over, then let it sit and soak in the starch.  I let it air dry, then come back and hit it with the iron.  I do this so there isn't a lot of that flaky mess you get when you press immediately after spraying the starch.   Make sure you pre-wash your fabric if you think the colors might bleed–but not if you're using precuts.

You don't need to starch if you're planning to use Beth Helfter's Accordion Sewn HST™ Method.
There's a link to Beth's videos in the pattern on page 4 or you can check out the video I made here.

Decide which Cheeky Churn Dash you're going to make and cut out your fabrics accordingly.  You'll need to make a large quilt option to qualify for the grand prize at the end of the Quilt Along, so keep that in mind.

Quilt Option A cut list is found on page 5 of your pattern
Quilt Option B cut list is found on page 17 of you pattern
Mini/Pillow cut list is found on page 23 of your pattern
There's a note on page 4 of your pattern–if you have a hard time sewing a consistent 1/4″ seam allowance (don't we all??), you can cut the squares that will be used for HSTs a little larger than the cut list calls for.  So instead of cutting 10″ squares for the large quilt option, you can cut them at 10-1/4″.

If you need help–there are cutting diagrams for each option that will maximize your fabric use.
This week, post a picture of your stacks of cut fabric on Instagram using the #cheekychurndashquiltalong hashtag.
I'll be randomly picking one winner from week two (you have to post the week 2 prompt on Instagram with the hashtag by 9/28/2018 at 11:59 CST) to win an awesome prize!  This week's prize is a FQ bundle of De La Luna, sponsored by Kustom Kwilts (me!) that I purchased from Knotted Threads.  Check out the Prize Roundup post for more details & the rules.
Next week, we'll be assembling all the half-square triangles!
Cheeky Churn Dash Quilt Along Posts:
Week One – Introduce yourself and gather your fabrics