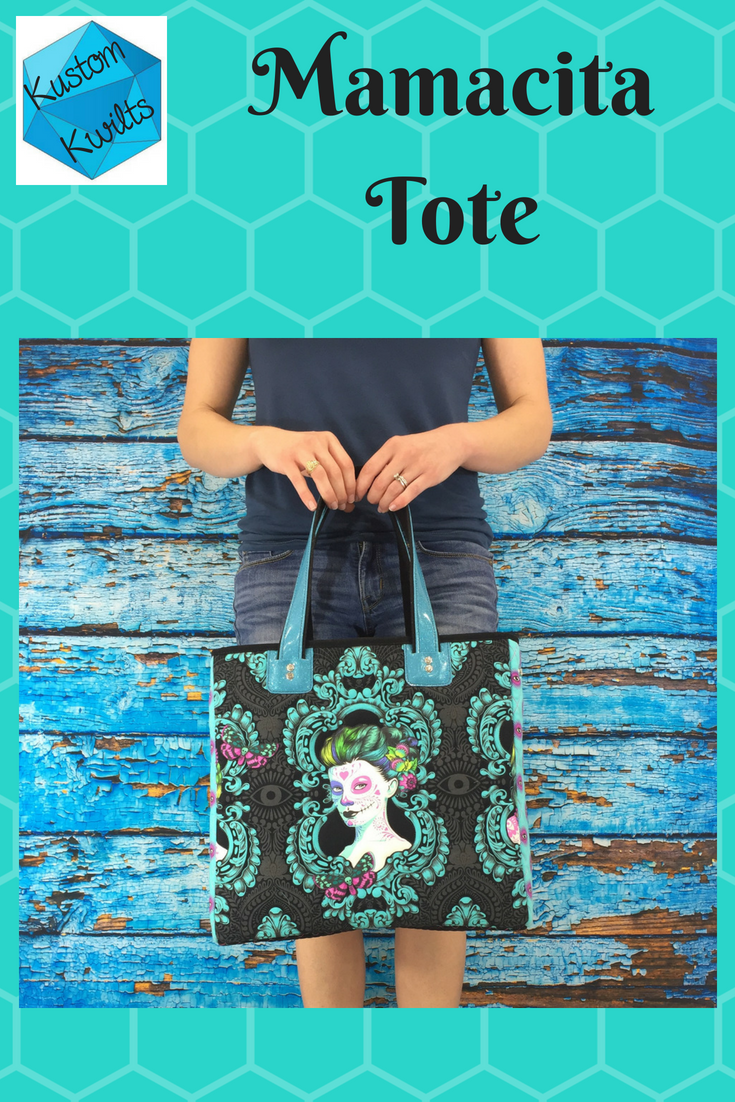 Today is the official release day for the Mamacita Tote Pattern!  Hip hip hooray!!!  I'd love to tell you the story behind this pattern and why it's so dear to me.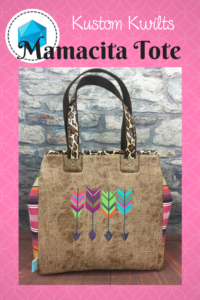 When I first started sewing, I loved to make things that were useful (that still applies today).  I love the feeling I get when I plan a project and sewing that last stitch, and the overwhelming feeling of pride I get when I know I made something that I love (or someone else will love).  I loved quilting, but I loved making bags even more.  I used to be an agriculture science teacher, so my purses were always getting filthy from being at stock shows and around livestock all the time.  I did some research on fabrics that were easy to clean, and I came across oilcloth.  Long story short, oilcloth is a wonderful fabric that doesn't fray, wipes clean, and, in my experience, has a ridiculously long life.  So I'm going to show you my very first go at what evolved into today's Mamacita Tote: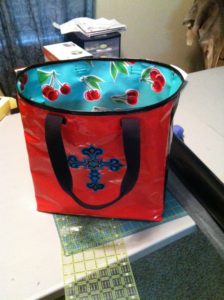 It isn't exactly swoon worthy, but I loved it.  I used this bag for about a week before I realized the importance of interfacing and stabilizer in a bag this size, and made from all oilcloth.  It didn't stand up on its own and was pretty floppy.  Also, when you sew with oilcloth, the holes made by the needle are permanent.  That means if you don't lengthen your stitches, you'll get lots of perforations that will weaken the fabric.  Hence, sewing the straps directly to the oilcloth where all the weight will be stressing the fabric = terrible idea.  I still have this bag in my sewing room and love to bring it out and see how far my design has come since January 2013.  That's right.  This pattern has been FIVE YEARS in the making.
I needed a better way to attach the straps and I wanted a more stable, sturdy bag.  So another year of trying out different things and I came up with using large drapery grommets as the strap attachments.  I really loved this, but after I got a package of grommets from the manufacturer and they were all cracked from shipping, it was time to rethink using them.  I couldn't risk having one break and then go through the hassle of replacing them all the time.  Quality supplies are my top priority.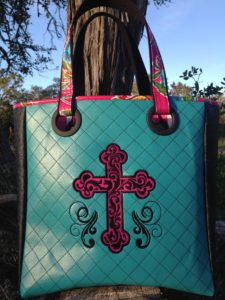 I really like embroidering the vinyl or quilting it (or both!) and adding unique embellishments to make each bag unique.  Late in 2017, I have the absolute best version of this bag that I could dream of.  I've made over 200 of these bags, and even sell custom Mamacitas on Etsy.  They have an updated strap attachment that is stylish and functional, and I love the look of them.  I recently made my favorite Mamacita Tote EVER from Tula Pink's latest line- De La Luna in quilting cotton.  Although I really like using oilcloth for the lining since it's so easy to clean, I love the bright and vibrant colors in Tula's line, so I'll sacrifice the wipability for that, and just try really hard to keep my 1.5 year old from spilling her milk in it 😉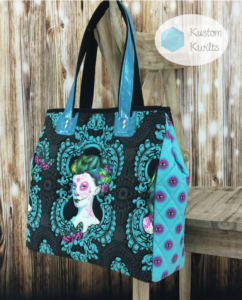 The Mamacita Tote has been my ultimate labor of love, and I know this pattern by heart.  I love that the lining keeps me organized with all the pockets, and that I can still be stylish or trendy with my fabrics.  Every time I make one, I remember how much I've grown as a sewist and how much I've learned from all my trial and error and fearlessness as a novel sewer.  I'd love to see your take on the Mamacita Tote and I hope you'll share your creations with me (use the hashtag #mamacitatote or tag me @kustomkwilts) so I can see the amazing work you've done!