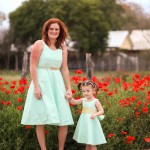 I know I'm getting a little off my usual topic by showing you some recent garment sewing, but I like to mix it up a little bit, and to be honest, a good variety of projects keeps me excited about what I'm doing every day. This post is ALL about selfish sewing. I took a little break from my other projects to make this and loved the result.
I'm not a die hard mom that makes every little thing for the baby, but I did want to make one special occasion dress for Gemma as a baby–her first Easter dress. I opted for the Lorelei Pattern from E-Beth Designs because I know Elizabeth and love, love, love the dress she made for her adorable little girl. Plus, I purchased the mommy and me package to make matchy matchy dresses, but I was a little ambitious and didn't leave myself enough time before Easter got here. One of these days I'll get to it, but I'll make it in a print I love instead of matching my baby girl! Also, there is a fantastic petticoat under the dress, and the pattern is so well written that there really isn't any chance you can mess it up. I was so happy with the results. You can purchase the pattern on Elizabeth's website and sew it up for any special event that you have coming up. The only suggestion I would make is to use a cotton lining fabric instead of polyester, especially if sewing for a young child. Our church is kind of hot and Gemma was a sweaty little baby by the end of the service, so a more breathable weave might be a better option if you know you'll be in warmer temperatures.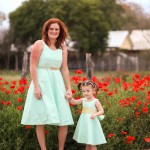 Photo of the Mommy and Me bundle- from E-Beth Designs website
For the fabrics, I just went with some regular quilting cottons that I had on hand and had already prewashed for another project. Sometimes I get too excited to sew a new garment pattern and don't want to wait or go through the hassle of making sure the fabrics are pre-shrunk, so I was happy to use something already prepped. I used a purple gingham for the accent pieces and a very light purple and cream floral fabric that I thought was really sweet. I usually am not such a reserved person when it comes to fabric selection, but I wanted baby girl to look sweet!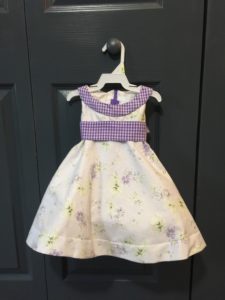 Front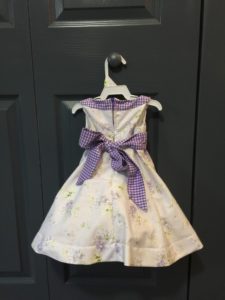 Back
And here is the finished dress-I made the 6 month size, even though Gemma was only 4 months and it worked out well. I wanted her to be able to wear it for a little bit before she outgrows it completely, and the sizing was pretty spot on. She's a little over 6 months now and can still fit in it comfortably, which makes this momma extremely happy! I was pleased at how professionally the dress finished–sometimes in children's clothing patterns, steps are skipped or the patterns aren't very well written, but this dress finishes with a petticoat and is fully lined. I really enjoyed each step in the pattern and even learned some new things along the way. Happy sewing until next time!