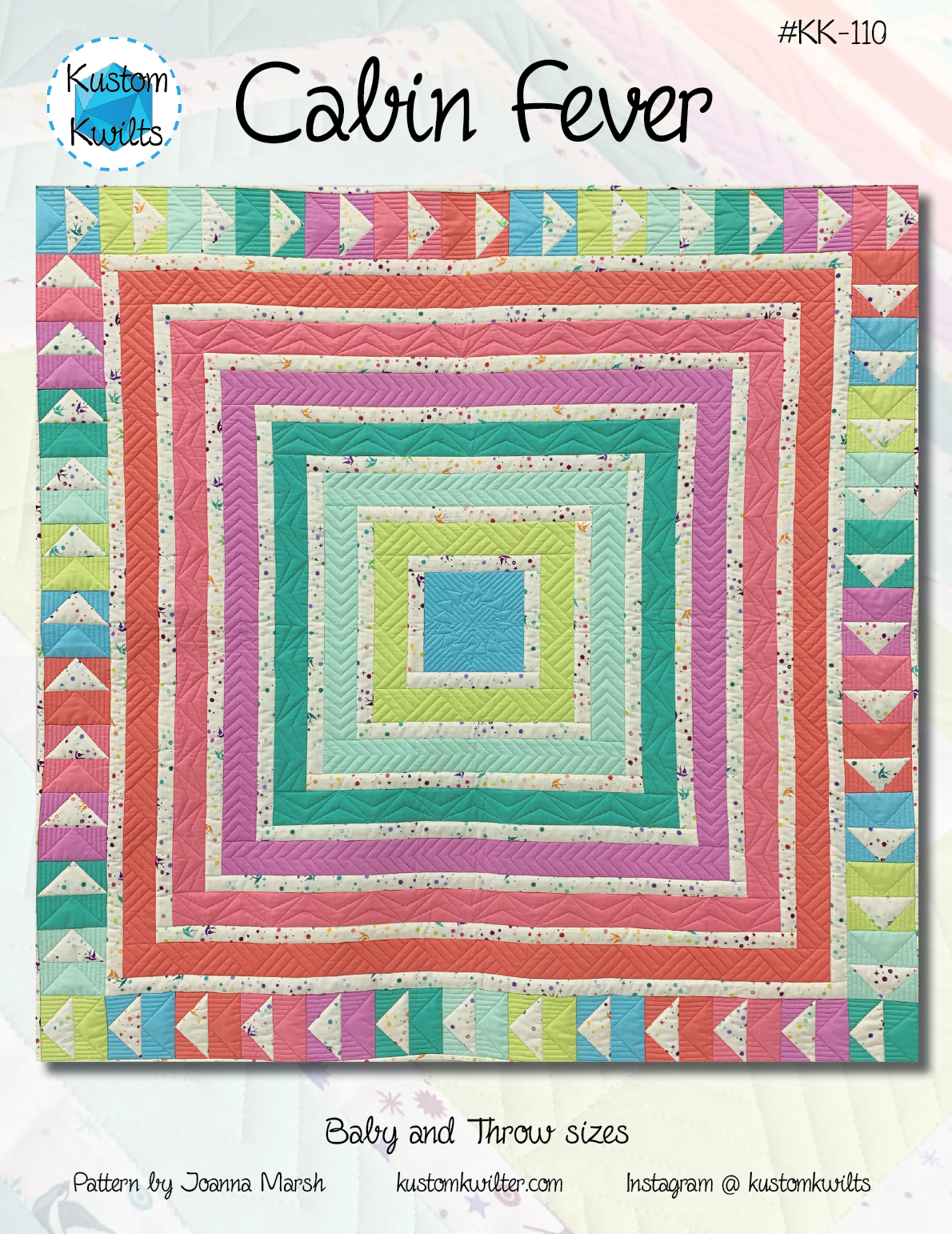 Today is Cabin Fever Release Day! I'm so excited to share this modern log cabin quilt with you today, as it's a design I planned out about two years ago. It's always difficult to be patient waiting for this day! The PDF and print versions are now available :)–and a limited amount of kits.
The inspiration for this quilt came from a few things…even though the name conjures images of being stuck inside. (Which, admittedly, we can all probably relate to currently.) First, I wanted to make a quilt that came together fast and looked great with solids or prints. I like to try out new quilting motifs, and this quilt is so much fun to practice on. Secondly, our daughter was one at the time. A lot of times, I felt the repetition of house chores and potty training (who was I kidding? She still wears a pull up to bed sometimes–and I'm fine with that 😉 made me a little cagey. So I jokingly named it Cabin Fever. The geese represent breaking free from routine and they're ridiculously fun to quilt.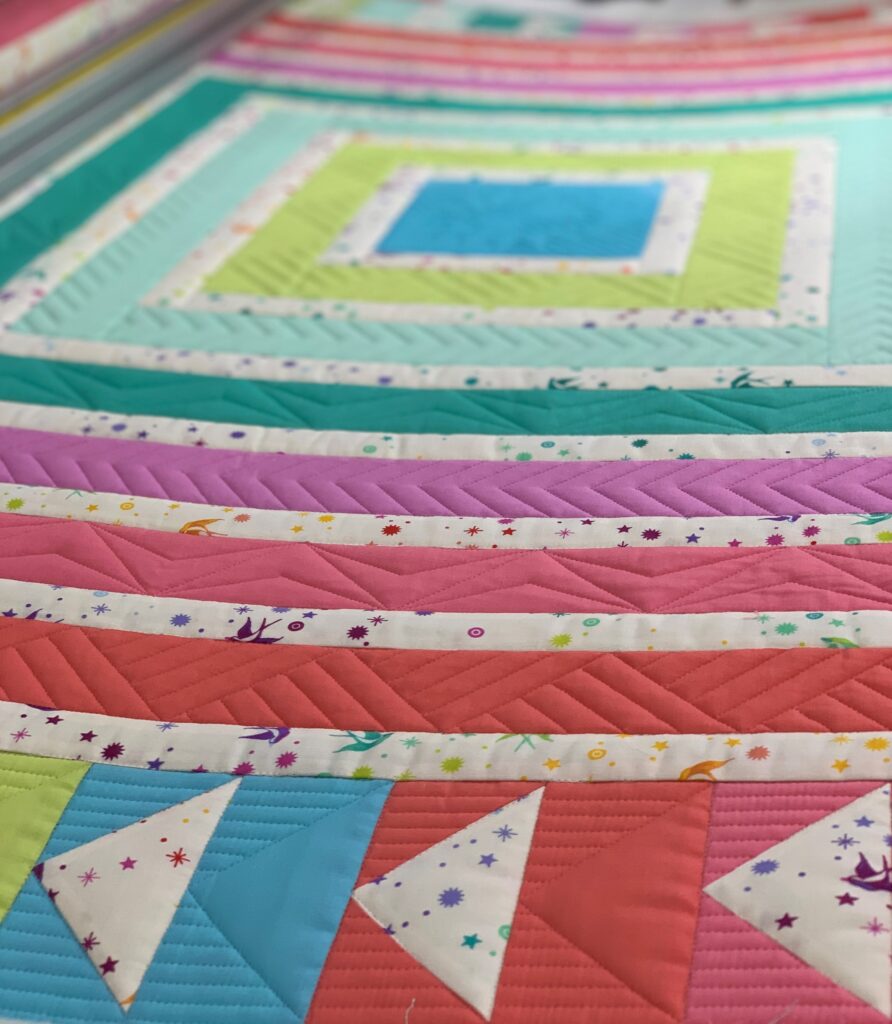 Funny enough, I didn't realize how appropriate the name would be at the time, but here we are!
The Cabin Fever quilt instructions come in two sizes, baby and throw. These quilts go together really quickly, and they're a nice break from traditional block-based quilts. The pattern comes with some fun and easy tips for making flying geese quickly.
Tula Pink Solids / Kona Cotton Equivalents
This colorful version is one of my favorites. I've been using all Tula Pink solids and stripes to work on another quilt, and I stumbled across a perfect stack of colors just as I was about to make an all blue version. Sadly, after I made it, I realized the Tula Pink solids can be a bit hard to find, so I matched them closely to Robert Kaufman Kona Cotton Solids. Thank goodness for color cards! I quilted the outer border with some ghost geese to make it appear the entire border had flying geese. Then I did some fun ruler work in each strip of color. I love how the straight lines pop so much on solids! This is the baby version, which measures 52″ x 52″. It's a really nice size, and I use this one to cover up on the couch while I english paper piece.
Blue & Grey Cabin Fever
This colorway is the very first one I had planned out but didn't end up making until just recently. I love how the brightness of the blues contrast with the darkness of the grey. I haven't decided just how to quilt this one yet. Some nice ruler work and custom quilting would really pop against those solids, but I have a new edge to edge design I'm itching to try out. This is the throw size, which measures 81″ x 81″.
Peaches and Pinks Cabin Fever
This was the very first Cabin Fever Quilt I made. I mixed in prints with Kona cotton solids, but I've added a color chart in just solids. The great thing about Robert Kaufman fabrics is they generally use the names of the coordinating solids in a lot of their prints. It's easy to mix and match prints from different collections to what the coordinating solid would be. This is another throw size.
Ruby Star Society – Clementine
Have you seen Miss Melody Miller's new collection for Ruby Star Society called "Clementine"? I love it so much!! She's a wizard when it comes to color, and these ethereal pinks and blues are insanely good together. I used Rashida Coleman Hale's Speckled as the sashing/background fabrics. My daughter Gemma saw me putting this one together and claimed it before I could say no. I let her pick out a color of Shannon Cuddle. Her favorite color is pink, so it was a no brainer. And then she got to pick the edge to edge design that I quilted. They're subtle, but they're little heart rainbows. This is the softest quilt, so cozy and squishy.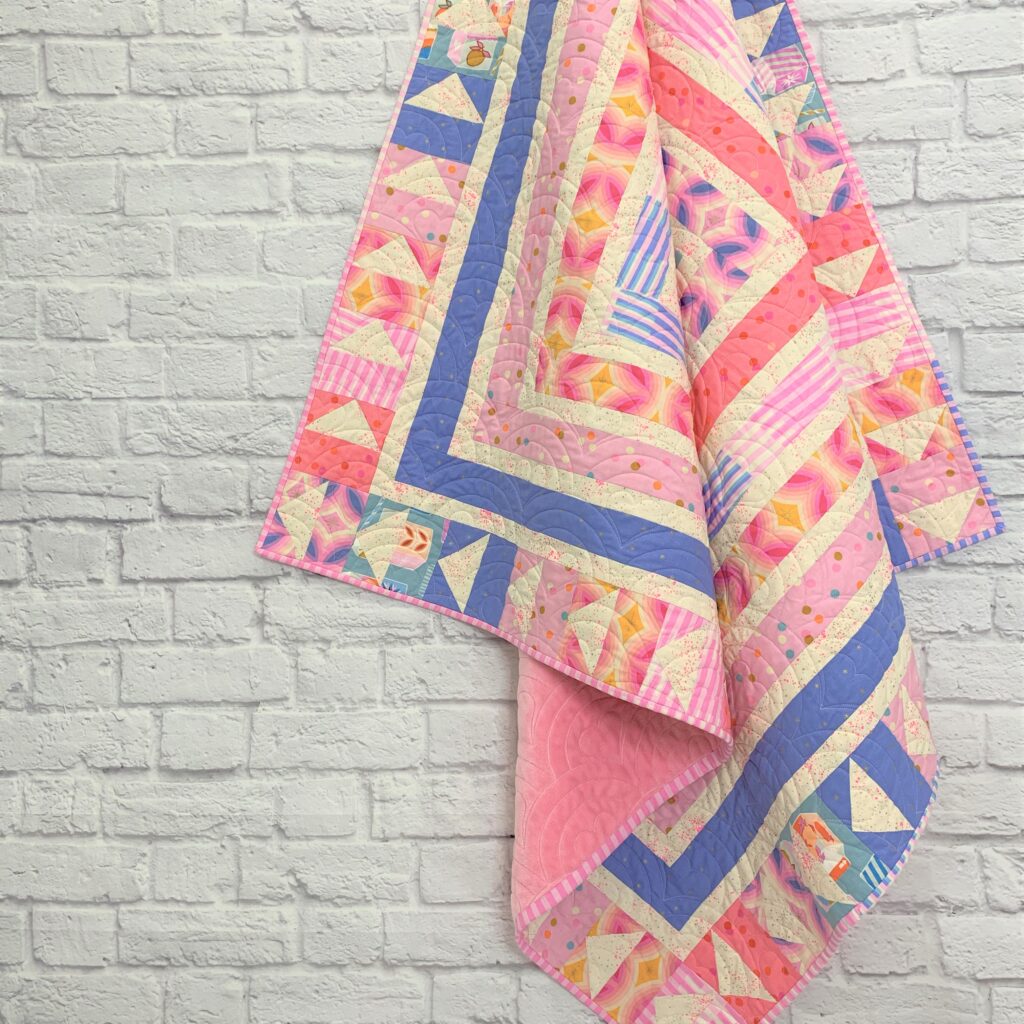 I can't wait to see what fabric collections or solids you guys pick for your Cabin Fever quilts! I love seeing the amazing different quilts that y'all make and the incredible fabric selections you make. Have fun with this one–I know I do 🙂 If you want to see more of the photos I've been posting of Cabin Fever, you can head over to Instagram and check them out!
-Joanna