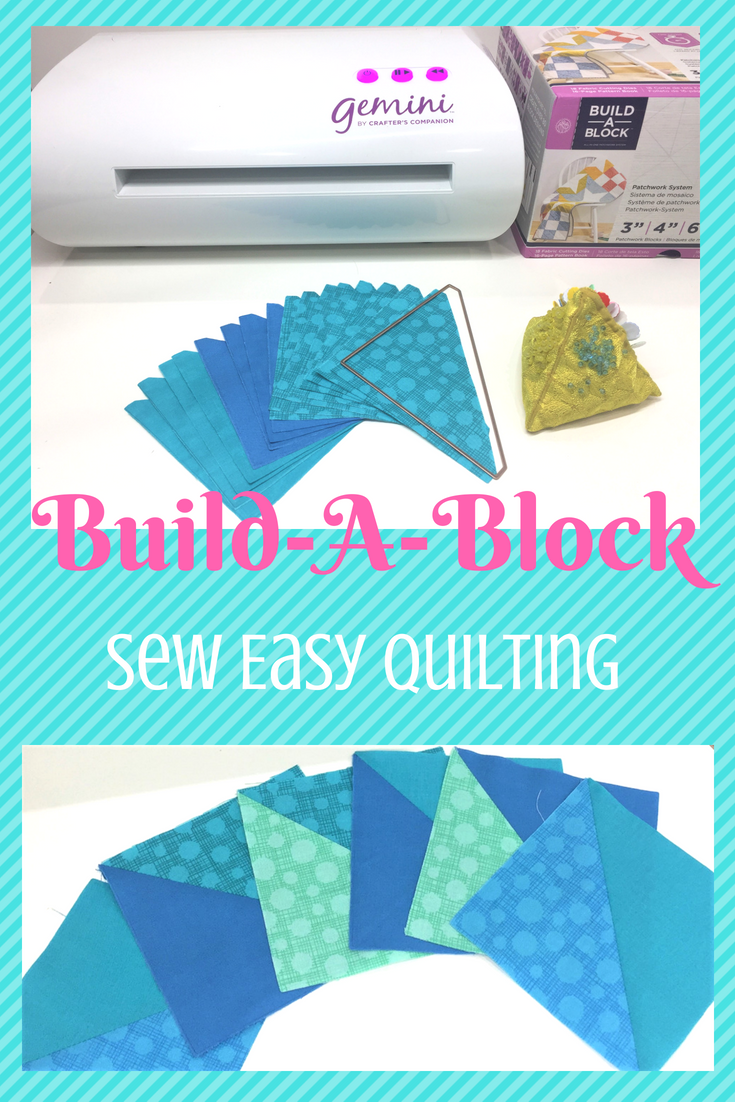 I have some really awesome news to share with you this week!  I've partnered with Crafter's Companion as a Brand Partner to show you their awesome new product, The Build-A-Block Patchwork System for the Gemini Die Cutter.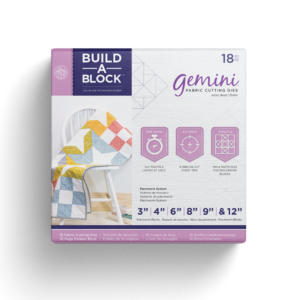 I've never used a die cutter for sewing or quilting prior to this, just because I honestly was not impressed.  I thought it was just another thing that would take up space in my sewing room, and you know that's prime real estate!
But here's the thing:  I make a LOT of half-square triangles.  Like more than half of my quilts have some form of HSTs in them.  Sometimes I get in a hurry and my HSTs aren't accurate, so most of the time I cut them bigger than they need to be, sew, press, and then trim down to the correct size.  Oh and don't forget about trimming off those annoying little dog ear points too.  It's a necessary evil for me.  I never considered that there would be a die cutter that has half-square triangle dies that cut the fabric (and multiple layers of fabric at that) to the exact size I need, and trim those little points away!  The first time I saw the Gemini in action was in May at the Janome Education Summit when Jennifer Tryon demonstrated it, and I was blown away.  Crafter's Companion sent me the Build-A-Block Patchwork System and Gemini to try out and I love it so much!
So here's the skinny:
The Build-A-Block is a set of dies made specifically with quilters in mind.
There are 18 fabric cutting dies to create a huge variety of blocks (and they have tons of other dies you can get separate from the Build-A-Block System).
Of those 18 dies, there is a set of squares, half-square-triangles, and quarter-square triangles.  If you think about it, the combination of those shapes into unique blocks is really unlimited.  
The Build-A-Block Patchwork System offers a fast and easy alternative to hand cutting with a rotary cutter, with MINIMAL waste.
It isn't just for quilts.  I'm currently making a tote bag with a two color combination out of half-square triangles, and it's going SO fast!
The Build-A-Block is an intuitive system that's easy to use for quilters of all skill levels, even beginners.  True story:  I unboxed my Gemini and Build-A-Block dies and had my first fabric cut within ten minutes.  There is no software to mess with, or difficult instructions to muddle through.
The Build-A-Block dies are capable of cutting a wide range of material, including faux leather and denim.
You also get a Block Guide with the Build-A-Block with instructions to create tons of blocks.  
I was so impressed with the Build-A-Block that I spent an entire afternoon just pulling fabric from my scraps and trying all the dies.  It's fun and addicting!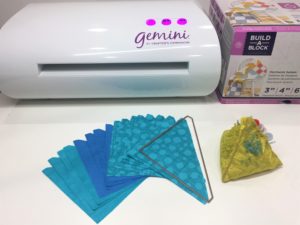 You can see a great demo video of the Build-A-Block in action, and take a peek at the Quilt-Along happening now, hosted by Jennifer Tryon, using the Build-A-Block and Gemini.
Deals!!!
On September 1, 2018 I'll be sharing a free tutorial using the Build-A-Block and there might be a little giveaway going on, so stay tuned!
Use the promo code QUILTEASY to purchase the Build-A-Block and you'll receive a set of threads and a six-piece fat quarter bundle valued at $41.95!!  
Between August 17-23, Crafter's Companion is offering 15% off of the Gemini machines with the purchase of a Build-A-Block System (no promo code needed, the discount will automatically be applied at checkout)!
I hope you're as jazzed about the Build-A-Block as I am.  It is a phenomenal tool to have in your quilting toolbox and it's quickly becoming a staple in my sewing studio.  I'm so glad I have it to make my life a little bit easier!  Hang around for the free tutorial coming up–you won't want to miss it 🙂